Police arrest Wal-Mart China employees due to falsely labelled pork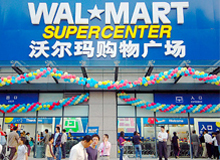 Two Wal-Mart China employees have been arrested by police in connection with the recent scandal which made headlines, which stated that the supermarket giant falsely sold normal pork meat as high quality organic pork.
The vice general manager and the director of the fresh produce department at Wal-Mart's Jiulong Square branch are the two people which have been arrested. In addition to the two arrests made in Chongqing, also 25 other workers have been detained. In addition, seven people are confined to their homes and three have been released on bail in the case.
Fined
It was announced that 13 of the stores in the city have been ordered to shut its doors temporarily. This week reports said that Wal-Mart was heavily fined for labelling ordinary pork as organic. Also a report by China Daily earlier this week stated that the stores have been slapped with fines worth five times as much as the income they made from illegally selling ordinary pork.
Chongqing has fined Wal-Mart 3.65 million yuan ($574,000), five times the 730,000 yuan that the company's stores in the city made from selling the meat over 20 months, according to a statement on the city's website. The government will also seize the 730,000 yuan, it said.
"Wal-Mart has a record of other incidents related to its credibility in China and not in Chongqing alone," Jason Yuan, an analyst at UOB Kay Hian Holdings Ltd. in Shanghai said.
The supermarket previously had 21 cases of false advertising and sales of expired or uninspected food since opening in the city in 2006.
Harsh reaction
According to analysts the penalties seems ruthless when considering the violation of posing regular pork as higher-priced organic meat. "It seems very excessive. I could see if they were ordered to stop selling pork or to shut down their fresh meat cases," said Torsten Stocker, Hong Kong-based head of the consumer goods practice at U.S. consulting firm Monitor Group. "But why close down the entire store? It seems a very strong reaction."
Anthony Rose, a spokesman in Hong Kong for the world's largest retailer said "This issue is restricted to Chongqing and does not have a bearing on any of our other stores in China."
Wal-Mart had $7.5 billion annual revenue in China, where it has 329 stores and 107,000 employees. The company is cooperating with the current investigation.