Pigs to be fed synthesised protein from natural gas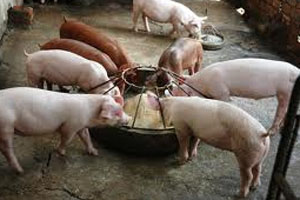 Russian scientists have proposed to use natural gas to synthesise cheap feed protein for pigs and cattle, which may significantly decrease the cost of compound feed production.
"The Russian gas industry is ready to give gas on preferential terms for the production of feed protein, which will help to raise our livestock," says the CEO of the Russian Institute of Oil and Gas Problems, Anatoly Dmitrievskii.
Scientists claim that the USSR previously used such technology and produced up to 3 million tonnes of feed protein from gas per year. However, with the fall of the Soviet Union the technology was abandoned, due to several researches claiming that such protein may affect the health of the livestock negatively.
"Recent studies show that that such proteins are safe for livestock. This technology already tested in the world and countries that have large reserves of hydrocarbons may use it to produce valuable feed additives for livestock industry," according to Yury Lachuga, a member of the Russian Academy of Sciences.
Experts added that the cost of such protein will let feed producers decrease final prices on compound feed production, while the nutrition value of such protein will not be lower, than of the protein derived from other sources. "Protein is a protein, its formulation is always the same," said Yury Lachuga.