Pigs and neighbours profit 'down under'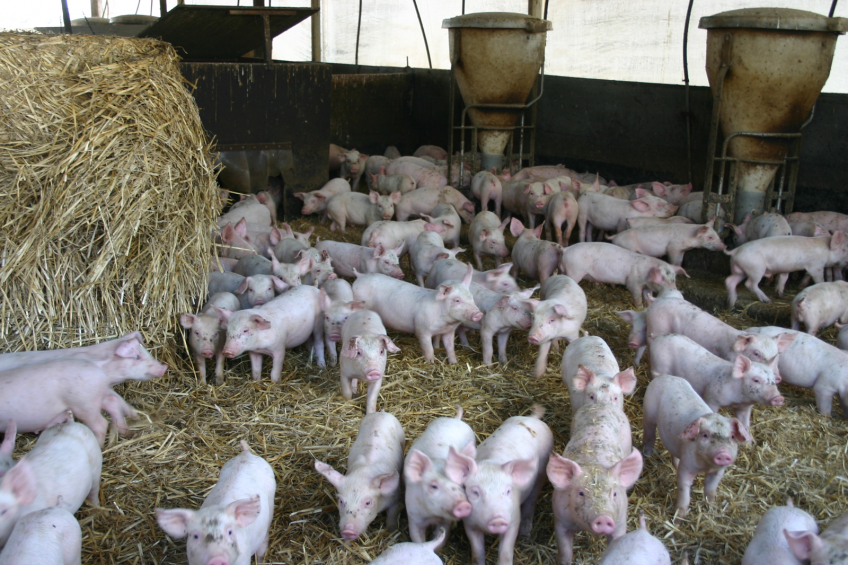 Pig farming in Australia is known for its animal-welfare ?character. John Bourke, a pig farmer in Victoria, is ahead of the game. The pro-active pig farmer rotates his grow-finisher pigs ?in shelters – and even the neighbours profit from the manure.
By Christine Clark, AusPac Ingredients, Tamworth, NSW, Australia
In Stanhope, in the heart of the Australian state of Victoria, farmers John and Gail Bourke of JW & GE Bourke, own and operate a 480 sow piggery. John Bourke was raised on his father's farm which was mainly a dairy farm with some pigs. He has since turned the property into a successful farrow-to-finish piggery with six full time staff.
Bourke is passionate about supporting Australian farmers and is very active in industry groups. He has a specialised and varied portfolio; is president of the Victorian Farmers Federation (VFF) Pig Group, representing 80% of the farms in Victoria; president of the Victorian Pig Fair, held in Bendigo; and is an Australian Pork Limited delegate. Bourke is also one of the first graduates of a scheme designed to train Victorian piggery workers through an Australian pig production certification system.
Not only is he passionate about his own enterprise, he is an outspoken advocate for the Australian pig industry. Bourke is the first to step forward whenever the industry may be under scrutiny and competently and proactively deals with any issues at hand. His broad understanding of the politics and his knowledge of pig farming make him a great spokesman for the Australian farmer.
Challenges
"The past years have had their fair share of challenges," states farm manager Steve Hawkes, who has worked with Bourke at the farm for over 11 years, and has been playing an integral part in the growth and development of the piggery. Hawkes says, "From the farrowing shed, I then branched out to all parts of the piggery."
Hawkes has recently implemented several changes to the farm. Spray-dried porcine plasma is a new addition to the creep feeds. ACE Livestock are responsible for Bourke's nutrition work and recommended trailing blood plasma. Spray-dried porcine plasma, a product from processed blood, is widely used in Europe and Hawkes reports substantial benefit since beginning to feed plasma.
Trial work with plasma has shown that in pigs coming out of the nursery, every additional 2 kg per pig translates into an additional 7-9 kg per pig at the end of the grow-finish period. Put that another way, each additional 2 kg per pig coming out of the nursery reduces the time for that pig in the grow-finish facility by two days.
Bourke said: "The creep feed intake is easily increased 20%." It has been proven at his farm that it enhances growth rate and feed intake during the post-weaning phase.
Changes have been made to sow management, vaccination programmes, creep feeding, weaning time (and movement of weaned pigs), shelter climate and water quality. Gut health has been improved through the addition of feed additives like organic acids in the feed and water. Herd fertility is critical to the success of any breeding pig enterprise, Hawkes noted.
Artificial insemination
Artificial insemination (AI) dominates the reproductive process on farm. If operated correctly, it should also guarantee that each mating is carried out using 
viable sperm, something which may not be guaranteed practically with delivered product. Bourke's developed their own in-house programme. Following this the farrowing rate increased by 10% and born alive increased significantly. In past seasons the farm would put extra sows on for summer numbers, however now the farm numbers remain steady as year round production has improved and stabilised. Conditions continue to improve with performance management and hygiene developments.
As pigs are weaned at JW & GE Bourke piggery, they are rotated throughout the shelters. The weaned pigs stay in the nursery shelters complete with specially constructed heated boxes, for four weeks. They then rotate to other shelters for two five-week stints. Moving the pigs this many times can be a 'trial' for staff, but it is efficient to keep the age groups together. At 14 weeks, the pigs are taken for a final 'tour' and walked to the conventional finisher sheds.
A 'path' is created every Tuesday from straw bales to create a maze for the pigs to be walked to their new accommodation. This 'all-in, all-out' cycle allows for the eco shelters to be easily cleaned, and enables the staff to manage the feeding programme. The pigs may move, but the feed into each silo stays consistent. Hawkes uses the Big Dutchman system and finds the disk grinder and feeding programmes 'easy to use'.
Bourke's farm has taken the idea of being a friendly neighbour literally. The farm 'shares' over 300 tonnes of composted pig manure and straw. The neighbour runs a 500-cow dairy farm, and is spreading fertiliser produced from Bourke's farm over his pastures to fertilise in summer and spring. This superior manure has no odour. The straw and manure from the farm is 'composted' in large rows, which are turned every few months.
Consistently rotating the compost allows the perfect fertiliser to be manufactured. They use no additives and no chemicals, just as nature intended. Making fertiliser of the waste has added value to the business. The shelters are cleaned out every five weeks, which yields an estimated 400 to 500 tonnes of straw a year and probably the same amount of manure. Hawkes concludes, "Instead of having a lagoon of effluent from flushing pens with water, now we have straw beds that are cleared out and composted." PP
This article was reprinted with the kind permission of Australia's Pork Journal.