Pig Progress magazine: First 2014 issue now online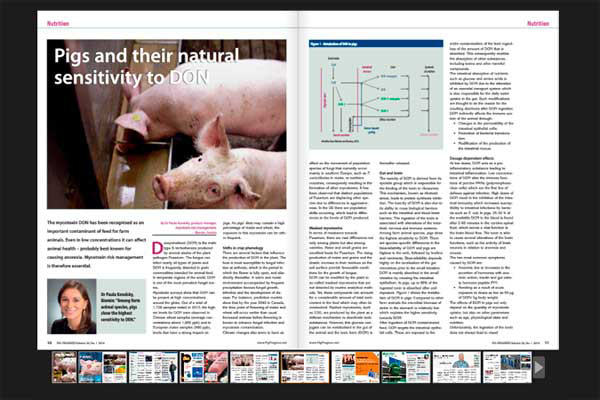 This is the first issue of 2014 and Pig Progress magazine kicks off with boasting topics such as Alternative Growth Promotion (AGP), housing and also it takes a look at the mycotoxin DON and its effects on pigs.
Over the last years, the topic Alternative Growth Promotion has been no stranger to news headlines. It is still in the limelight with the search for natural alternatives to antibiotics. In this issue, Pig Progress covers Phytogenics as an alternative to antibiotics. With a look at turmeric essential oil – can swine production benefit? Also read Targeted delivery of butyric acid in the intestinal tract.
This issue takes us to Brittany, France where there are two research farms – Crécom and Guerenévez- carrying out studies on feeding, welfare, health, environment and building management. Slatted floors as well as straw floors are also looked at – read the article Floors, ceilings, heights – all are tested in Brittany to find out what some of the study results were.

The mycotoxin DON and its relation to pigs is also covered. Even low concentrations can be a strain on animal health but how sensitive are pigs to the mycotoxin DON? Find out in – Pigs and their natural sensitivity to DON.

This Pig Progress also takes us to various continents, it chats to the Pork CRC's Roger Campbell in Australia, read the interview Always on the lookout for unexpected results, it takes us to  Beel-Steyvaert farm in Belgium, see New standards to reach the magic number 30 and to Argentina where animal health company Vetanco has opened its doors to a new plant – Vetanco welcomes third plant in Argentina.


For these topics (and more) read the digital magazine now online, click here.