Pig Progress Editor to speak at IPPE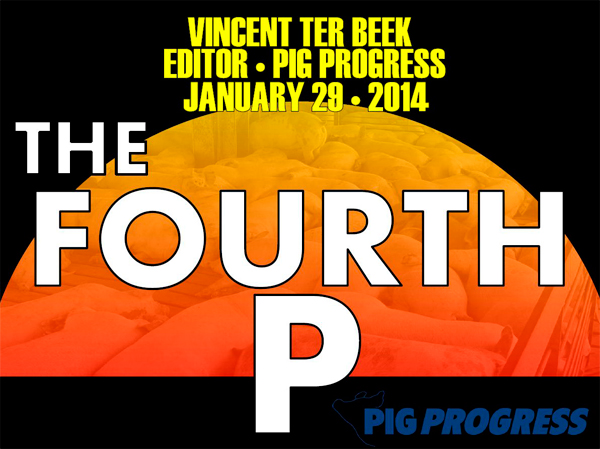 'The Fourth P' of Pig Production – will be the theme of a presentation given by Pig Progress editor Vincent ter Beek, at the first VIV International Pork Production Summit (VIPPS), which will be held concurrently with the International Production & Processing Expo, in the Georgia World Congress Center in Atlanta, GA, United States.
Preparing for his speech, he said, "Often, when thinking of sustainable pig production, the definition is that the interests of 'Profit', 'Planet' and 'People' are met. I think, especially in more developed markets, a fourth 'P' can be added to this list."
Ter Beek's presentation is scheduled for 3.30 pm, in the 'Farm Management' parallel session.
Right before his presentation, professor Dermot J Hayes from Iowa State University will present his presentation Opportunities for pork exports to China and India. He will speak at 3 pm.
Other speakers in this parallel session include Sean Francy, product manager for Val-Co, will present on Swine Ventilation Management. Dr Guido Klement, area sales manager for Pigtek, will present on Smart Technology on the Pig Farm, Simon Lague, business development manager for Fancom, will present on Quantifying Sustainability in Pork Production.
The total pork event will take place from 1-5 pm at Wednesday, January 29. The aim is to bring together industry and academic representatives. Apart from farm management, also technical best practices related to feed and nutrition and pig health are being reviewed.
From the feed and nutrition aspect, Ester Vinyeta, animal nutrition manager for Buhler, will present on High Feedstuff Costs: Improving Nutritional Value of Swine Diets by Processing Conditions. Dr Carrie Walk, research manager for AB Vista, will present on Superdosing – Phytase Beyond Phosphorous Provision.
From the pig health perspective, Rafael Cabrera, director of technical services for Huvepharma, will present on The Impact of Supplementing Xylanease in Swine Diets on Apparent Total Tract Digestibility, Growth Performance and Overall Pig, and Douglas Newcome, vice president of global technical services for the National Swine Registry, will present on the Use of Technology in Genetic Improvement Programs. The programme will also feature a roundtable discussion on Porcine Epidemic Diarrhea Virus.
A plenary closing session on the Challenges in the US Pork Sector is also planned. James Kenwood, managing director and coverage banker for Rabobank International, will present on The Future Position of the US Pork Sector in a Global Perspective, and Ma Chuang, vice-secretary general for the Chinese Association of Animal Science and Veterinary Medicine and partner at Boyar Communication, will provide a Chinese Perspective.
IPPE, the world's largest annual poultry, feed, and meat industry event, will be held January 28-30, 2014. The VIV International Pork Production t agenda can be viewed at www.ippexpo.org or by clicking here.