Pig farmer and feed company team up in feed mill project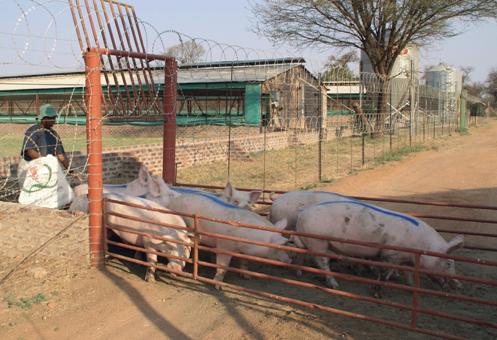 A South African pig producer and a Dutch feed company have embarked on a joint venture that promises to bring mutual benefits: tailor-made rations for the piggery, and a flying start for De Heus' third feed mill in South Africa.
By Gineke Mons
Over the last two years, the Dutch feed company De Heus has ventured out into South Africa. In 2007, the Dutch acquired the Nutrex feed mill in Umlaas near Durban on the South Coast. Production capacity is now being upgraded to 170,000 tonnes per annum. Last year, De Heus took over Horizon Voere in Klerksdorp, producing 45,000 tonnes for farmers in the central region of South Africa.
Recently the third feed mill was opened. This newly constructed facility in Modimolle in the northern province of Limpopo has a production capacity of 100,000 tonnes. But unlike the other two feed mills – which are fully owned by De Heus – this is a joint venture with the Humphries family, major pig farmers in the nearby town of Bela-Bela. Their family business is run by Willem Humphries, 66, and his sons Kobus, 40, Willie, 33, and Lourens, 39, who is now director of the feed mill.
Finishing pigs ready for slaughter are being directed for transport at the Humphries' farm
The Humphries manage 1,500 sows and deliver 670 fattened pigs per week to bacon producer Enterprise Foods in Olifantsfontein.
"We used to mix our feeds ourselves, but our home feed mill was nearly falling apart and more or less inside the piggery, due to our expansions over the years," says Willie Humphries, who is in charge of the weaner and grower department. "So we had to build a new one."
Construction firm
The farmers approached feed mill construction firm the Dalein Groep, to discuss their plans for a new mill. That was three years ago – around the time that De Heus was investigating the possibilities of the South African market. De Heus also consulted the Dalein Group, and before long the match was made.
The joint venture, in which De Heus holds the majority share, is effectively a win-win combination for both parties. Co de Heus, CEO, De Heus Group: "Here in Modimolle we operate one of the most northern feed mills in South Africa. In this area our main focus is on pig and poultry producers. The joint venture with the Humphries allows us to start right from the beginning with a major client, so a fair amount of our fixed costs will be covered. We hit the ground running."
The new De Heus feeding facility in Modimolle, Limpopo province, South Africa
For the pig farmers, having a stake in a brand new commercial feed mill has its obvious advantages. Not only is it expanding the base of the farm's activities. The Humphries also think that the larger quantities needed for the commercial mill will result in lower prices for the raw materials and thus in cheaper rations. They currently use around 850 tonnes of feed per month.
"We're able to mix more accurately, and to use a wider range of additional vegetable by-products like vegetable oils, gluten 20 and gluten 60 ext., besides the maize and soybean meal we used to grind. It enables us to differ more: now we can get pellets for our weaners; something we couldn't make ourselves," Humphries says. "Combined with the expert nutritional advice from De Heus we're expecting that this is going to pay us in better food conversion rates."The Humphries have been using feeds of the new feed mill for only four months now, so it's a bit too early to draw conclusions on the Feed Conversion Rate (FCR), Humphries says. "But I do have a positive gut feeling; the pigs look a little better to me." Definite results will only be known late 2009, when the first complete cycle of baconers is slaughtered.
Up to standard
But even before the new mill, the technical results were already quite up to standard. The Topigs C40-sows are sired with a Tempo boar. They produce an average of 2.36 litters per year, with 11.6 born alive per litter. With an average mortality of 8-9%, 25.2 to 25.3 pigs are weaned per sow per year, which puts the Bela-Bela farmers in the South African top 20. The growers (having 25 kg liveweight; day 63) gained an average 920 to 930 g/day, at an FCR of 2.64.
The baconers are slaughtered at around 103 kg liveweight/78 kg carcass weight, according to sow manager Kobus Humphries. The young boars are not castrated. "They're slaughtered at 21 weeks at the latest, and we've never had any problems with boar taint." Gilts are slaughtered at 23 to 24 weeks.Like most bigger pig farms in South Africa, the Humphries are contract growers. They're on a three-year contract with Enterprise Foods, based on the price of feed. Every month the actual feed price is established, and based upon this, the farmers receive a compensation ('which we cannot disclose') per kg slaughterweight. Kobus Humphries: "So if we improve our growth performance, we benefit."
Another way of performance enhancement would be converting to Specific Pathogen Free (SPF), something the Humphries would like to do. It's not because they have any unusual disease problems, but it would definitely be nice to get rid of the mycoplasma, according to the farmers. "But the depop-repop scheme requires for our whole farm to be unproductive for a certain amount of time. That's costly. And we don't have separate units, so we're unable to do it gradually. We really would love to do it – but only after the feed mill is paid back."
And those signs are looking good. Although it's never easy to persuade farmers to switch to a new, unknown feed supplier, new trial orders for bags of chicken feed are proudly showing on the large whiteboard in Lourens Humphries' office.
De Heus: Optimistic outlook for South Africa
De Heus Group is based in The Netherlands. The family-run company was founded in 1911 and is now a leading producer of animal feed in the Netherlands, with eight production facilities churning out 1.8 million metric tonnes of feed for the Dutch market annually.
Since 2000, the company has been expanding internationally. Worldwide, their feed production currently amounts to 3 million tonnes, with 1,300 employees on 27 production locations in nine countries. De Heus has a strong presence in Eastern Europe and is also active in China and Vietnam and in Africa (Egypt, Ethiopia and South Africa).
De Heus is optimistic about the development of South African farming. As the middle class is growing, the demand for meat is increasing and thus the need for animal feed. "As soon as people earn more money, they'll buy a piece of steak, chicken or pork. Meat consumption has developed rapidly over the last couple of years," according to Koos Kooy, CEO, De Heus South Africa. The year 2008 was a good year for the pig industry, he says. But recently the South African rand has gained a lot of value compared to the US dollar. The strong rand currently puts a lot of pressure on the domestic pork market, as more imported chicken and pork enters the country.
Source: Pig Progress Volume 25 nr 8