In the year 2015, Tai Xin Fu Min pig production company made worldwide headlines by being given a 3-star 'Good Pig Production Award' by Compassion in World Farming – handed out in Westminster, London, United Kingdom. The farm received the acknowledgement as it had stopped applying standard practices like tail docking and teeth clipping.
The recognition is the outcome of the broad interest of Victor Zu, owner, in foreign technologies to make his farm a success. Since the start of the farm in 2011, he has travelled across many country borders to learn and make a success of his pig farming business. Certainly for the years to come innovative input is what he needs – more about that later.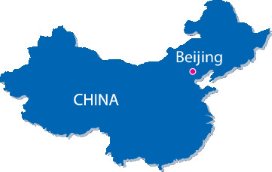 Tai Xin Fu Min, Beijing, China
Tai Xin Fu Min is a 1,600 sow breeding farm in Tongzhou district, Beijing, focusing on English Large White. Currently the farm weans 22 piglets/sow/year. In total, the farm produces just over 35,000 pigs/year, of which there are about 18,000 gilts. About 15,000 are sold as parent stock to farmers in Eastern China (Huadong) and Northern China (Huabei). About 1,000 gilts are used for own replacement breeding purposes. The remainder (mostly males) are finished at an average growth of 800 g/day and are sold at 110-115 kg. The farm is not free from PRRS.
3-site breeding farm
First things first – Tai Xin Fu Min pig farm is a 3-site breeding farm located about 50 km south east of Beijing – and within the Beijing Municipality.
Key to his farm operation is that he is producing Large White gilts (also known as Yorkshire) for the market – and he claims to be the largest purebred English Large White breeding herd in China. "The English Large White is a muscly animal with strong legs, which leads to an excellent slaughter quality, exactly what is needed in China," explains Dr Jan Merks, a Dutch genetics expert and owner of Genetics' Added Value, an international breeding consultancy firm located in the Netherlands. He is assisting Tai Xin Fu Min farm in its growth. Merks adds, "For over 30 years the Chinese have been importing Landrace and Yorkshire sows, mainly from North America and more recently from Europe. Victor Zu thought it was time to build up a herd for himself."

Victor Zu, owner of Tai Xi Fu Min farm
Regular visitors usually never get further than what is indicated as 'Site 3', a bright yellow facility at the public road in the countryside which contains a viewing gallery. The gallery consists of a large glass wall behind which potentially interested pig farm owners can view their future parent stock. Once a decision has been made to purchase certain boars and gilts, the animals can be taken home.
Apart from this viewing gallery and a capacity for roughly 7,000 pigs, 'Site 3' contains a relatively extensive 'determination' section. Here, the gilts and boars produced by Tai Xin Fu Min are all tested for all kinds of breeding characteristics, like e.g. backfat thickness. These are data that are important to know for future buyers.
Gestation, lactation and weaning
Logically, prior to 'Site 3' in the production chain come two other farm sites, both at about 10 km distance, where the steps are taken that eventually lead up to the sale of gilts. 'Site 1' is where all the 1,600 Yorkshire GGP and GP breeding sows are located. Roughly half of the sows here are used for pure breeding and the other half are used for cross-breeding (F1 gilts). Monthly, about 1,400 gilts and boars come in from 'Site 3' to keep the purebred population going. The sows are kept in group housing; Nedap Electronic Sow Feeding (ESF) stations are being applied at this site. In addition, also the ventilation and temperature control systems are semi-automatic.
Weaning occurs at 24-28 days, after which the piglets are moved to 'Site 2'. This farm site roughly has a capacity for 4,500 places. At roughly 60-75 days (25 kg), the piglets are moved to 'Site 3'.
Some further characteristics that apply to all three sites: they are all are set up to avoid contamination entry. This means that all sites have separate entrances (clean road) and exit (dirt road). Another thing worth noting: all the pig waste is separated into a liquid and a dry part. For instance, local greenhouses use it in their production.
Future plans
Casting a look ahead, of the three locations, 'Site 3' is the only place that will form part of the future set-up of Tai Xin Fu Min. The vicinity to Beijing Municipality has proven to be the farm's money maker as well as Achilles' heel – as the lands are needed for future urbanisation.
For that reason, Victor Zu has found a new location where future breeding activities – and more – can be concentrated. The new farm site is located in a remote, mountainous area south west of Beijing, in Hebei province. The new farm shall be a Specific Pathogen Free (SPF) facility, to be constructed on an isolated spot, at 300 m elevation compared to a nearby river. The transport entrance to the farm will be located 8 km away from the farm.
The nearest village is about 3-4 km away. The Chinese authorities helped Victor Zu acquire this new location, on the condition that the new Tai Xin Fu Min would assist in making the area more accessible. Merks says, "Victor Zu also has an obligation to plant some trees and make the area of use to society."
Expansion to 5,000 sows?
The new farm shall initially aim at holding 2,500 sows, but future plans may see the farm expand to 5,000 sows plus add a complete farrow-to-finish business and an AI station. The site will consist of five buildings at different levels, one of which will house staff. Just like the current 'Site 1', the new breeding facility shall have group housing for sows, which will be equipped with Electronic Sow Feeding stations by Nedap.
The farm shall be run by Victor Zu's sons, who both went to the Netherlands to receive intensive pig farm management training: Zu Zun Qian, age 22 and Zu Zun Kun, age 21. Their main role shall be to bring and apply western knowledge into the management of the farm.
As a result of all these plans, it is expected that the current sites 1 and 2 shall close, 'Site 2' most likely by the end of 2017; 'Site 1' following soon thereafter. Only 'Site 3' will continue to be used. After all, to remain in the focus of the attention, a hub like Beijing can never be close enough.
This feature has been made possible with the kind assistance of VNU Exhibitions and Genetics' Added Value.
Orange ZuMe
The cooperation between Jan Merks and Victor Zu has also led to the foundation of the company Orange ZuMe (Beijing) Pig Consultancy Company, a Sino-Dutch company headquartered in Beijing, focusing on pig breeding and farm management consultancy, using software like PigExpert and providing training. This programme is a product by Agrisyst, a Netherlands-based agricultural data company. The system records all kinds of breeding records and breeding data, in order to help breeders to improve their business.