Northern Ireland: Numbers up on piglets born from gilts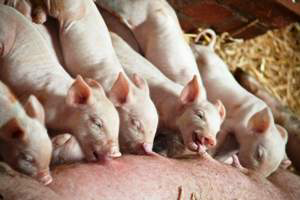 Pig farmers in Northern Ireland have seen the number of pigs born alive from gilts rise by 1.2 over the past three years thanks to better gilt management.
Analysis of data covering the past 12 months for more than 22,300 sows from 45 herds in Northern Ireland found gilt performance had increased by an average 12.4 pigs born alive compared to 10.7 in 2010.
Mark Hawe, pig adviser with the Department of Agriculture in Northern Ireland (Dardni), says gilt litter size is now higher than sow litter size was two years ago, with some herds achieving more than 15 pigs born alive a litter.
"Replacement rate on many units is now approaching 50%. This means gilts contribute to approximately one-fifth of all litters and, therefore, have a major influence on unit performance and profitability."
Kenniford Farm gilt breeding facts
Gilts are selected at 45kg
Grown on a gilt rearer ration for steady growth
Ad-lib feed given until 100kg weight reached (at approximately 180 days old) and during this time gilts are kept away from boars
Run with vasectomised boar after 180 days
At second heat moved into service pen and have daily contact with boar
Optimum weight at breeding 140-160kgs
Optimum back fat at farrowing 18-20mm
Served at third recorded heat
Needs to replace 45-50% each year to maintain parity profile
Although the use of high-performance dam genetics has contributed to the improvement in performance, Dr Hawe is keen to stress genetics is not a quick fix. "You can have gilts with identical genetics that have very different levels of performance on different units," he says.
One of the most important management areas to focus on is serving gilts at the right age and weight and not until their second heat.
"The better herds are delaying service until gilts are at least 150kg. Some producers only serve gilts when they are 170kg and these gilts can easily be 40 weeks old.
"Rearing gilts slowly to ensure good bone and reproductive organ development will also result in better lifetime performance than smaller gilts bred early," he says.
And to ensure gilts aren't bred early, Dr Hawe says managing the gilt pool is important. "Using your sow replacement rate you can calculate how many sows must enter the herd each week. When the gilt pool is correctly managed then sow culling can be planned."
He says some producers in Northern Ireland have been synchronising gilts to get batches coming through.
"Synchronisation allows gilts to farrow in batches. This can help fill empty crates due to cull sows leaving the herd and ensures the system is running at optimum."
Other management areas Dr Hawe recommends paying attention to is flushing gilts and serving them. He says better herds are feeding 1kg of glucose for two weeks before service. "Some producers say these products maximise litter size as well as producing more evenly sized pigs at birth," he says.
Pig farm manager Grant Morrow says the whole herd production at Kenniford Farm, Exeter, is founded on gilt introduction. Mr Morrow uses the Hermitage Seaborough best linear unbiased predication (Blup) rotational stock-breeding programme.
"The Blup system helps us select replacement gilts. The aim is to get as high a proportion of parity 2, 3, 5 and 5 in the herd to maximise born alive. That means we must introduce a target number of gilts into every service batch allowing parity six sows to be culled when service target is reached."
At Kenniford Farm gilts are averaging 12.5 pigs born alive. Mr Morrow says: "It's a combination of good care, gilt size, age, weight and management that means we get good born alive and don't get second litter depression."
Get more information on Blup at Kenniford Farm
[Source: FarmersWeekly]