Non-profitable pig farms cause crisis to continue, professor says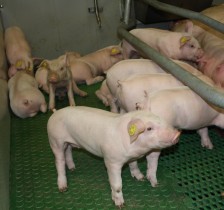 The Belgian pig industry needs to be cleansed in order to revitalise the industry, says Prof Guido Van Huylenbroeck, Agricultural Economy, Ghent University, Belgium.
In an interview in the independent Flemish monthly trade magazine Varkensbedrijf Van Huylenbroeck stated that quite a number of pig farms are financed too strongly, but still achieve rather bad technical results. He was quoted to say, "In case they should not have done this, the less profitable companies would have ceased to exist, would not have added to the oversupply and this would mean difficulties for better performing pig farms would be a lot smaller."
Van Huylenbroeck indicated that in case a full market approach would be followed, automatically the market would be cleansed from non-profitable farms. This would add to revitalise the industry.
Vicious circle
Van Huylenbroeck said it is clear that the Belgian industry nowadays has hit a vicious circle of farms in difficulties, asking for aid, continue to produce and a disturb the market. "This way the crisis is aggravated and it would be too easy to suggest that the market is not functioning properly," Van Huylenbroeck said.
In the end, these ongoing efforts to keep even non-profitable pig farms going, will also affect those farms that do have a positive balance.
It wouldn't be an option to produce specifically for the Belgian market, Van Huylenbroeck said. "Our pig industry is a very export-orientated sector as 150% of the pigs produced are being consumed abroad.
Reforming this means reducing the production by 150%. This equals a cutback that is a lot bigger than continuing with those farms that are profitable."
Future
Van Huylenbroeck does believe in a future for the Belgian pig industry as a self-sufficiency rate of 250% is enough for having a future.
"Certain players in the market had better focused on certain targeted markets and organise the supply chain towards that goal." At the moment, he considers the Belgian pig to be a generic pig, that could be sold at any market to any price.
When comparing that with Iberic or Italian hams, the Belgian pig is not translated into a certain specialty product. "Promotion ought to be adjusted to the market, to the quality delivered and the niche markets searched."
Related websites:
• Varkensbedrijf
• Ghent University