New records for US pork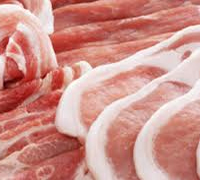 According to year-end statistics released by USDA and compiled by the US Meat Export Federation (USMEF), exports of US pork, beef and lamb set new records across the board in 2011, reaching all-time highs in both volume and value and exceeding $11.5 billion in total value.
Pork exports totaled 2.255 million metric tons valued at $6.11 billion, breaking the previous volume record of 2.052 million metric tons and shattering the value record of $4.88 billion, which were both established in 2008. Year-over-year, pork exports were up 18 percent in volume and 28 percent in value.
Beef exports finished the year at 1.287 million metric tons valued at $5.42 billion. This broke the 2003 volume record of 1.274 million metric tons and easily surpassed the 2010 value record of $4.08 billion. Export volume was 21 percent larger than in 2010, with value up 33 percent.
Lamb exports totaled 18,343 metric tons valued at $30.08 million. This topped the previous record performance of 2006, when exports totaled 13,934 metric tons valued at $27.8 million. Compared to 2010, lamb export volume was up 72 percent and value increased 46 percent.
"It is extremely gratifying to see all red meat exports reaching new heights, even with the various trade obstacles we still face across the world," said USMEF President and CEO Philip Seng. "US producers have provided superior products to market and made solid investments in the international markets – not only from pork, beef and lamb checkoff programs, but also from the corn and soybean checkoffs. Along with the experienced staff we have in place in the foreign markets, our trade officials who continue to work for greater market access and the exporters and traders who work every day to grow the presence of U.S. meat worldwide, they are to be commended for their foresight and commitment to global marketing."
While the record-breaking performance of 2011 is impressive, Seng feels strongly that USMEF and its industry partners have laid the groundwork for even greater success in the future.
"Demand for US red meat has never been stronger, and we are well-positioned to build on this success," he said. "We have the marketing tools in place to showcase the quality and consistency of US products, which our industry is able to deliver at a very competitive price and end users are able to utilize in extremely creative and innovative ways. Real opportunities exist for further growth, and USMEF fully intends to capitalize on this strong momentum."
Pork export ratio, per-head value, very strong in 2011
For the year, pork exports equated to 27.5 percent of total production when including both muscle cuts and variety meat. In terms of muscle cuts only, exports totaled 23 percent of total production. This was up substantially from 23.7 percent and 19 percent, respectively, in 2010. Export value per head slaughtered was $55.55, an increase of 27 percent (nearly $12) from a year ago.
In December, pork exports were down slightly from November's record performance but remained well above the previous year's pace. Exports increased 16 percent in volume (215,870 metric tons) and 32 percent in value ($582.6 million) from December 2010.
"Among the factors driving the success of US pork exports are the chilled programs and value-added programs that USMEF has implemented in several key markets, especially in north Asia," Seng said. "Producers, processors and exporters have really worked together in recent years to provide a wider range of high-quality products that we can use to expand these markets. As a result of this collaboration, premiums delivered by the international markets continue to have a very positive impact on the US pork industry's growth and profitability."
In addition to setting a global value record, Seng noted that the U.S. industry achieved new heights in its top two markets, Japan and Mexico.
"Coming off a record year in Japan, we grew export value by another 20 percent and nearly eclipsed the $2 billion mark," he said. "That's a testament to the effective marketing strategies deployed in what is easily the world's most competitive pork market, as we have found new ways to further penetrate the restaurant and retail sectors and capitalize on rapidly growing sectors such as convenience stores. In Mexico, our outreach to national and regional supermarket chains has been highly successful, along with the strong relationships we have established in the processing sector."
Pork exports to Japan set new records for both volume (493,313 metric tons) and value ($1.96 billion), respective increases of 13 percent and 19 percent over 2010. While slightly lower in volume (537,535 metric tons) than last year, Mexico became the first market other than Japan to import more than $1 billion in U.S. pork in a single year. Exports to Mexico jumped 6 percent in value over 2010, reaching $1.04 billion.
Other pork export highlights included several new records, with a very strong year in the Hong Kong/China region pushing exports up 64 percent in volume to 483,323 metric tons and nearly doubling in value to $910 million (and surpassed 2008 records). Exports to South Korea more than doubled in volume to 188,307 metric tons and increased 162 percent in value to $497 million. Exports to Australia grew 23 percent in volume (64,350 metric tons) and 38 percent in value ($204.6 million) – breaking the $200 million mark just seven years after the first exports of U.S. pork to this market. Central and South America saw increases of 21 percent in volume (72,023 metric tons) and 32 percent in value ($186.6 million), as existing free trade agreements with Honduras and Chile boosted 2011 exports and newly ratified trade agreements with Panama and Colombia offer excellent opportunities for further growth in 2012.