New nucleus farm for RA-SE genetics in Ukraine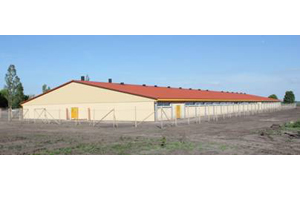 In August RA-SE Genetics delivered high genetic value breeding animals from Rattlerow Farms (UK) to Elita's brand new nucleus farm in Ukraine. A second delivery is planned for September to complete the population of 600 pure line GGP sows and corresponding GGP boars.
Since 2004, RA-SE Genetics has been very active in the Ukrainian market as a supplier of pig genetics. Exports of breeding animals from Ra-se Genetics farms' and partners in France, Belgium and UK regularly take place.
"Ukraine is still the granary of Europe, which will give a bright future to the Ukrainian pig producing sector." Geert Rombouts, area manager Ukraine at RA-SE Genetics
Elita Ltd. is currently a distributor of RA-SE Genetics in Ukraine. This project will use the GENmatch program to guarantee up to date genetic progress. The breeding stock produced from this new nucleus will be marketed in the Ukrainian growing pig production sector. Pure line GGP stock will be replaced on farm by animals produced from imported frozen semen from RA-SE Genetics. At this moment, the Ukrainian and Belgian veterinary authorities are working on a bilateral agreement for the importation of deep-frozen pig semen from Belgium. The first export of deep-frozen semen to Ukraine is planned for the end of 2013.