New heights for EU pig welfare campaign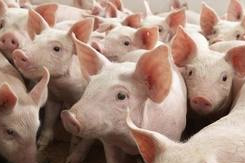 A new pig campaign demanding EU countries adopt pig welfare laws has received more than 100,000 signatures. Compassion in World Farming (CIWF) launched Pig Project to raise awareness of "appalling conditions" on many EU pig farms and "flagrant disregard of legislation".
CIWF has recently released two investigations into how Spanish and Italian pigs are farmed, highlighting "the extremes of low welfare and disregard for pigs' safety and well-being".

According to CIWF, over 10 million pigs are bred in Italy every year – and of these, more than 95% are reared in factory farms.
An investigation in Italy found each of the 11 farms visited by CIWF's Investigation Unit was found to be violating EU directives.
"At some farms, dead pigs were abandoned in the corners. With other pigs visibly seriously injured – left without care," said Annamaria Pisapia, director of CIWF Italy.

"Many of the pigs had serious eye infections, leaving their eyes bright red and painful. The conditions of the pigs on the farms that we observed are not only illegal, but also ethically unacceptable."

In Spain, a CIWF investigation discovered "pig bins" full of dead pigs outside some farms. "Not only were these full of dead pigs, but some had maggots feeding on the dead flesh, and in addition to the smell, suggesting they had been there for some length of time," said CIWF.

Liberal Democrat MEP Sarah Ludford is supporting the campaign. She said: "It's absolutely essential for UK farmers that there is a level playing-field across Europe. Otherwise they will be undercut by producers in EU countries with lower welfare standards.
"It is intolerable for our farmers to raise standards while other EU producers do not bother to observe the rules their governments signed. Until they do so shoppers would do best to buy British."

Last month, EU member states voted for new legislation to modernise the inspection system in pig slaughterhouses.
The new legislation aims to improve food safety by increasing the focus on microbiological hazards, which are the main food safety risk from meat, and introduce a more proportionate risk-based approach to hygiene and welfare inspections, known as official controls.

Measures agreed include:
• strengthened salmonella controls in pig slaughterhouses
• reduced trichinella testing where other controls are in place
• reduced carcass handling to minimise cross-contamination
The new legislation agreed is expected to come into force in June 2014.
The UK's Food Standards Agency (FSA) said it would work with the meat industry to implement the new requirements.
New legislative proposals on poultry, sheep and cattle meat inspection are also planned and are likely to be published within the next year.

Source: Philip Case, Farmers Weekly