Nedap presents first farm equipped with finisher sorting system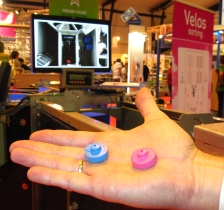 A farm in the Dutch town of Veulen will soon be the first to be equipped with a finisher sorting system.
The Velos Sorting system was launched recently by livestock equipment developer Nedap, headquartered in Groenlo, the Netherlands. The system allows the management of finishers in groups, while guaranteeing individual attention for every animal through ear tags. Pigs can eat whenever they want as the sorting system will determine its characteristics and therefore the correct type of feed, leading to an optimal feed consumption.
The system is web based and can be operated by a computer, a tablet or a PDA. It was awarded one Innov'Space award at last week's SPACE show in Rennes, France.
The Classens farm in Veulen has a finisher building for ten groups of 244 finisher pigs, where the new sorting system will be able to individually recognise all animals. In the producer's opinion, the system offers various opportunities:
• Tracking animals from birth to slaughter
• Tracking posterity data to ancestors
• Better administration of type of feed, in relation to sex and weight
• Daily weighing of every individual animal
• Animal sorting whenever an individual approach is required
• Automatic sorting of animals ready for slaughter
• Moment of slaughter is determined on sex, weight and other demands
The Classens farm will open its doors to interested members of the public on September 30.
Related website:
• Nedap Velos