Nedap Agri celebrates 100th contract signing at 2012 CAHE EXPO, Nanjing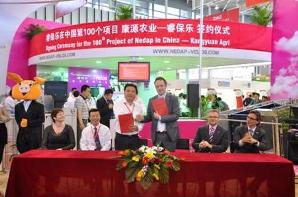 Nedap Agri China arranged a grand signing ceremony celebrating its 100th project contract won by Nedap in China at the Tenth (2012) China Animal Husbandry Expo in Nanjing, China.
Nedap's 100th project in China is with Jingdezhen Kangyuan Agri Developing co and is the biggest project in Asia using Electronic Sow Feeding from Nedap for group housing of pregnant sows. On this farm, with a total 5,000 GP sows, 56 feeders from Nedap shall be feeding the gestating sows.
Invited special guests who were present during the signing ceremony included the vice-secretary general of CAAA: Mr Jing Jizhong, the GM of Kangyuan Agri: Mr Zhang Renhua, the counsellor of the embassy of the Kingdom of the Netherlands: Mr Emar Gemmeke, the representative of Orange Pig: Ms Ina Enting, the GM of Nedap Agri: Mr Bertino Verstege, the GM of Nedap Agri in Asia: Mr Andries Jan Oosterhof.
Jingdezhen Kangyuan Agri Developing Co, Ltd is the wholly owned subsidiary of Ningbo Kangyuan investing Co, Ltd, a public listed company specialised in large modern agricultural industrialisation projects. Jingdezhen Kangyuan will be involved in breeding farms, a feed mill and a slaughter house. The total investment of this farm will be €30 million, it's production base covers an area of 323.7 hectares.

By choosing Nedap Velos, Kangyuan expects to achieve a higher level of farm management and improve the animal welfare in the farm. Group housing, especially the Nedap Velos system are being chosen by more and more Chinese customers when they are planning new farms, recognising the system as an efficient tool in managing a modern farm.
A day before the signing ceremony, the Orange Pig initiative officially launched the Pig Signals farm Training programme. Nedap Agri, as a member of Orange Pig, awarded its customer Jingdezheng Kangyuan Agri Co, Ltd a certificate in Chinese, for being the first company in China for joining the premier Pig Signals training programme. Besides technology and products, Nedap also exposes customers to Dutch pig industry know-how, helping customers further improve their businesses.
Nedap China Ltd
Nedap China Ltd is a subsidiary of the public listed company Nedap NV from the Netherlands. Nedap NV was among the first companies in the world to start research, development and production of electronic sow feeding systems. Nedap offers innovative and sustainable solutions for automation in animal husbandry, worldwide for the past 35 years. By making individual animal management possible on large scale farms, higher production results per animal can be achieved.
The equipments of Velos apply for pig farm as below:
• ESF—— In view of pregnant sows. This system realization of precise feeding and scientific management for individual sow in condition of sow's group housing feeding by using the RFID technology, Velos ensures the feeding process is controllable. Velos was created based on research on sow behaviour, with the animal's welfare in mind.
• Sorting—— Specially applied to finisher's group feeding provides the records of individual sow's weight growth, when they were separated, and feeding.
Since registering with China in 2008, Nedap China Ltd have had more than 100 successful projects in China, counting amongst its customers the companies Wens, Yurun, Kangyuan, Guangda, Yifa, Detianyuan, Wuyi Xumu, the Chinese Academy of Sciences, and Yichun Wanglong. Nedap China counts eight partners and a service network covering the whole country, with a 45-strong professional service team. Nedap's vision in China is to help customers become more profitable and grow their business with Nedap equipment and support.