MS Schippers joins forces with De Heus and Wellhope in China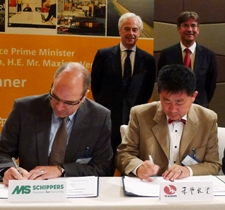 MS Schippers, an international Holland-based livestock equipment company, has closed a joint venture with De Heus Feeds and the Chinese Wellhope Group.
De Heus International, one of the Netherlands' larger compound feed producers, has already had a joint venture with feed producer Wellhope Group since 2006, by buying shares of the company.
In an explanation, John van den Broek, Schippers Export's commercial director said: "We received lots of requests for delivery of our products and knowledge to the Chinese market – and so we have decided to anticipate to these requests by creating this joint venture with De Heus and Wellhope."
Key feature of the new jv, that apart from the pig industry will also target dairy and poultry markets, will be to increase general health status on farms and thus improve the technical results of farms, by using Western management know how. This will be delivered through specialised divisions, that exist within Schippers these days, e.g. Water Solutions, Pest Control and Hygiene Focus.
Food safety
Van den Broek added that socio-economic effects of a higher health status of farm animals will include that an improvement will occur of food safety for consumers, by reducing the use of antibiotics and medicine, as animals are kept in better condition.
Schippers signed the a memorandum of understanding with De Heus and its their Chinese counterpart last Wednesday.
The new joint venture will combine MS Schippers' experience in the professional livestock industry with De Heus' and the Wellhope Group's sales infrastructure.
The joint venture will become operational in October 2011.
Minister
The joint venture was signed in the presence of Maxime Verhagen, Dutch minister of Economic Affairs, Agriculture and Innovation.
Related websites:
• MS Schippers
• De Heus International