Mix of yeast and soy-protein for challenged piglets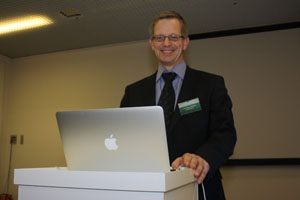 Adding 10% yeast to soy-based proteins offers more opportunities for swine producers to even get poor-doing piglets on track straight after weaning.
Danish producer of plant-based proteins Hamlet Protein celebrated the addition of HP800 Booster to its product range with a special technical session at EuroTier, in Hanover, Germany. The novel product is a yeast-soy feed supplement, to be administered to challenged piglets straight after weaning – or to be used as creep feed if desired.
Litter sizes
Feed application manager Lars Sangill Andersen explained: "The problem today in Denmark is that litter sizes are increasing. Piglets are getting therefore increasingly smaller – one extra piglet per litter causes an average weight loss per piglet of 40 g. This has an effect on the number of piglets that producers want to survive till weaning and further."

Main effects noted in piglets is that the average feed intake per litter is increased by 7%, in comparison to the company's main soy-based protein product (HP300). Andersen said, "We don't know yet whether this means that the quick eaters now eat quicker or whether it helps the later ones. The effect is measured over whole litters."

Mode of action
The additional yeast components included are cell walls (mannan-oligosaccharides/ MOS and beta-glucans) as well as yeast extracts, i.e. nucleotides and metabolites.

The addition of yeast may help in several different ways, Andersen said. "We know that yeast helps to achieve a higher digestibility, as it plays a role in keeping the gut healthy. There is also a possibility that the yeast works as a flavour enhancer."

Related websites:
EuroTier
Hamlet Protein