Miratorg present in every step of pork production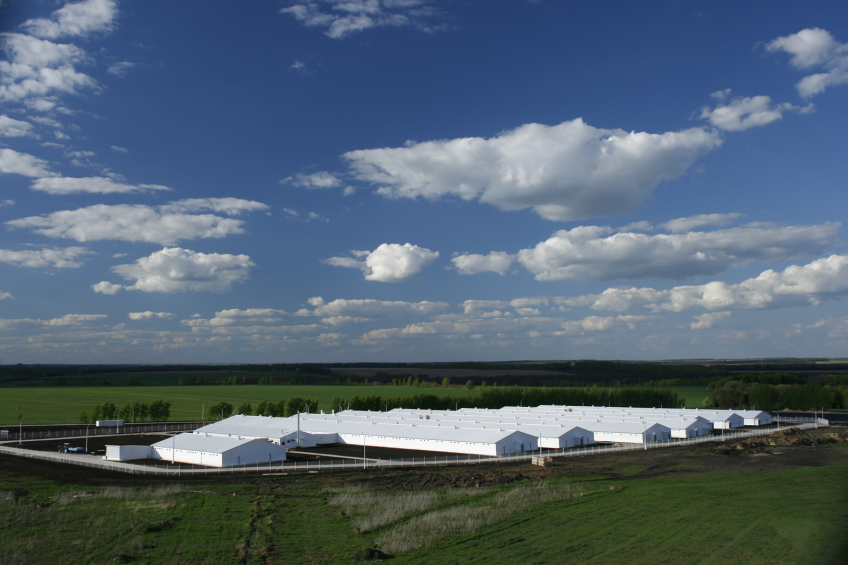 Large steps have been made in the Russian pig industry in the recent years, but few of the companies have achieved levels of Miratorg. The integrated meat giant is involved in the pork production process from feed production to supermarket outlets.
By Vladislav Vorotnikov & Vincent ter Beek
Western-style, large and innovative – these are characteristics Miratorg likes to be associated with.
Western-style, because the company relies on European and US equipment at its farms and processing plants to get high efficacy figures. In addition, the meat giant claims to be the only pork producing company in Russia that has a strategy 'from the field to the shop counter'. This means that the company not only produces and processes pork, but also produces feed grains and compound feed for its pig herd.
Large is undeniably true, as Miratorg is already Russia's largest pork producer and is on its way to becoming even much larger. The integrated producer and processor recently announced extensive expansion plans that involve investments not only in the pork business, but also in the poultry and beef sectors. Main locations for Miratorg can be found in the Belgorod (close to the border with Ukraine) and the Kaliningrad regions (a Russian exclave between Lithuania and Poland). It is here where the major investments will be taking place, potentially providing fertile ground for eventual exports to Europe.
As for innovative drives, the company so far invested about 28 billion roubles (US$0.9 billion) in the development of its pig production sector – the company says this is by far the highest in Russia.
Pork production taking centre stage
Pork production takes centre stage in Miratorg's production process. At present this occurs within a structure of 23 highly-automated pig farms. All of these are built around superior Western-style technology, like e.g. from Big Dutchman and Roxell.
Miratorg pork production (2013)
Feed conversion rate: 2.94
Piglets weaned/sow/year: 22.36
Average daily gain: 751 g
In 2013, Miratorg produced about 356,000 tonnes of pork. Since not all of the production facilities have already reached full production capacity, a volume of 400,000 tonnes of pork might well be reached. Last year, the company harvested three million finisher pigs.
Russia's pig industry characterised by low efficiency levels
Traditionally, Russian pork production is characterised by relatively low efficiency levels, with generally little improvements to be seen over the last decade. Various productivity figures, however, significantly exceed the average Russian indices, see box. This was mainly achieved by applying innovative technologies in recent years.
Miratorg's total market share in Russia is considerable. In 2013, this amounted to 13.7% of the Russian market, considering that the total volume of pork produced was about 2.6 million tonnes. With this percentage, Miratorg showed an increase of 2.3% in comparison to 2012.
Miratorg to improve efficiency of pork operations
Viktor Linnik, the company's president, states that Miratorg will continue to improve the efficiency of its pork operations. In his view, at this stage the company feels comfortable fighting foreign competition. In the next couple of years the company plans to establish large-scale pork exports, primarily to South East Asia and, albeit very optimistically, Europe. Miratorg anticipates that low costs of production and good quality of products will allow the company to gain market share there.
The company states not to use genetically modified organisms or growth stimulators during the growth of pigs.
Modern pork processing complexes
Miratorg owns a number of modern processing complexes, including the largest meat processing plant Korocha in the Belgorod region, producing a wide range of semi-finished products. All plants have a high level of robotic automation, which allow for usage of the entire pork carcass and production of a wide range of meat products. Robotics are applied at different moments during slaughter and deboning, as well as pre-scanning using a laser, pumping out blood and carcass splitting.
By usage of robotics the raw materials can be automatically scanned for fat thickness and lean meat content – and no human labour is needed.
Automation leads to increased shelf life
Dmytry Sergeev, head of the Miratorg press service, states that the automation process all the way from live animal to meat product, in combination with high sanitary and veterinary norms as well as hygienic safety, helps to ensure an increased shelf life of the chilled end product.
Currently the total capacity of Miratorg's pork processing complexes is about 520 head/ hour. The company produces 174 different items of pork products. Again, mostly foreign equipment is being used in these facilities, like e.g.:
Slaughter equipment by Banss;
Refrigerating equipment by Johnson Controls;
Packing equipment by Cryovac;
IT solutions by CSB-System.
Other suppliers include Marel, Mondini and Multivac.
Line for ready-to-cook products
One of the most important events for Miratorg in 2013 was the launch of a line for the production of ready-to-cook pork products. 
It is now able to market 84,000 tonnes of semi-finished pork products for consumer use. In today's market in Russia, demand for these types of products is rising rapidly.
The company plans to produce 1.46 million tonnes of feed which should be sufficient to meet the demand of its pig stock. In addition, its programme provides the sale of its products at its own company's stores. Miratorg expanded its corporate network outlets to up to 100 supermarkets in 2013 with a further anticipated growth within a three-year period. Today, the Miratorg retail network covers 18 regions and 52 cities in Russia.
[Source: Pig Progress Vol 30 nr 6, 2014]