March pork exports show positive momentum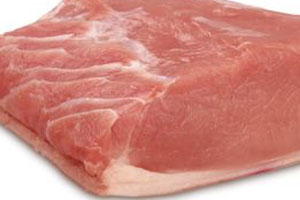 Exports of US pork and beef gained momentum in March after starting the year slowly, according to data released by USDA and compiled by the US Meat Export Federation (USMEF).
Although pork exports were down from the large totals recorded in March 2014, US export volume was the largest in 11 months at 191,041 metric tons (mt). This was 9 percent lower than a year ago, but a 10 percent increase from February. Export value of $495.3 million was down 18 percent year-over-year, but up 5 percent from February.
March beef exports totaled 86,774 mt, down 7 percent from a year ago but a 5 percent increase over February. Export value was $527.3 million, up 2 percent year-over-year but down slightly from February.
The March results reflect some degree of relief from the West Coast port congestion that plagued red meat exports in January and February. Port traffic began to improve after a tentative labor contract was reached in late February, though congestion lingered for several weeks at some major ports.
"Port congestion remained an issue well into March – and even into April in the Southern California ports – but the announcement of the new labor contract certainly improved the business climate," said USMEF President and CEO Philip Seng. "After months of frustration, the US meat industry was finally able to reassure Asian buyers that the worst of the crisis was behind us and that they could once again count on the US to fulfill its role as a reliable supplier. This was especially important for customers purchasing chilled pork and beef, which require very prompt delivery due to product shelf life."
In addition to shipping concerns, US exporters have found their competitive position in some key markets damaged by large volumes of lower-priced products from other supplying countries. In many cases, diminished purchasing power due to the strength of the US dollar has made the price disadvantage even more severe. Market access barriers also remain a concern in some markets, most importantly China and Russia.
"Closure of the Russian market to European pork continues to impact all major pork suppliers, as the EU has focused very aggressively on alternative markets in Asia," Seng said. "In the beef complex, the projected slowdown in Australia's production may still be coming, but certainly did not materialize in the first quarter.
"These are unusual conditions that are made more difficult by the strong US dollar, but now isn't the time to dwell on the stiff headwinds we are facing. We must aggressively defend the customer base the US industry has worked so hard to build over the years by reaffirming the value and quality delivered by US red meat."
March pork export volume highest since April 2014
March pork exports accounted for 25 percent of total production and 21 percent for muscle cuts only – the latter being the largest percentage since July of last year. First-quarter ratios were 23 percent and 19 percent, respectively. Export value per head slaughtered was $50.10 in March, down nearly $20 from a year ago, but roughly steady with the per-head value recorded in March 2013. For the first quarter, per-head export value was $49.48, down 19 percent from last year and down 7 percent from the first quarter of 2013.
First-quarter pork exports to Mexico topped last year's record pace by 7 percent in volume, reaching 179,507 mt, though value was down 6 percent to $321.2 million. Year-over-year growth in the first quarter was led by South Korea, where exports increased by 43 percent in volume (57,376 mt) and 55 percent in value ($180.4 million). Exports to Canada were up 2 percent in volume (48,905 mt) while export value was steady with last year's pace at $192.4 million.
Offsetting these results, however, were lower exports to Japan and China/Hong Kong. First-quarter exports to Japan declined 13 percent in volume (103,921 mt) and 19 percent in value ($386.6 million) as Japan's total imports slowed after accumulating large frozen inventories of EU pork. Exports to China/Hong Kong fell 40 percent in volume (67,754 mt) and 42 percent in value ($152.1 million) in the first quarter, although March exports were the largest in 12 months. Results in Latin American markets were mixed, with year-over-year growth achieved in the Dominican Republic, Honduras, Guatemala and Panama, but exports declined to Colombia and Chile.
For more info on beef and lamb: USMEF