Maple Leaf cancels sow gestation crates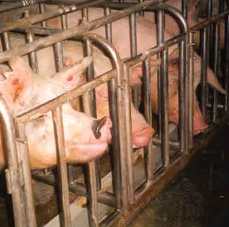 Canadian pork processor, Maple Leaf, will replace all sow gestation crates  with group housing over the next decade at all of their pig production sites .
The move makes Maple Leaf the second major North American pork producer in about a week to launch an overhaul of its gestation operations. Pork giant, Smithfield Foods, created a ripple through the industry late last week after announcing plans to phase out individual stalls and replace them with group pens in the next decade.
Animal activist groups have been trying for some years to change legislation on the use of gestation crates in which they claim the sows cannot move around freely. So far, gestation crates have been forbidden in the states of Arizona and Florida.
In Europe, all gestation crates have to disappear by 1 January, 2013.
Related articles: