Major drop in pork imports to Ukraine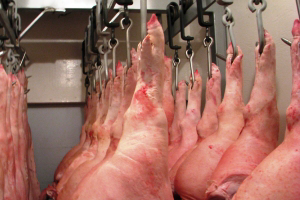 In January-May 2013 Ukraine imported 60,000 tonnes of pork, which is 5.5% less than the same period of 2012, this was reported recently by the agricultural business association, Ukrainian Agribusiness Club.
In May 2013 Ukraine reduced imports of pork to 11,000 tonnes, which is 34% less than the volume of the April and 50% lower than the figure of imports in May 2012. According to analysts the ban on imports of pork from Brazil only partly contributed to this decrease, because the market was quick to respond, and other importing countries increased their deliveries during the last months. Therefore, the main reason for the decline of import supplies was the increase of domestic pork production.

Pork exports also continue to decline, and in January-May 2013 it amounted to 1.6 thousand tonnes, which is six times lower than the same period of the previous year.

"The reduction of imports and exports of pork in the context of rising production in the country indicates that domestic producers are mostly focused on the domestic market. This trend will increase the share of Ukrainian pork on the market from 78% in 2012 to 82-83% in 2013. The growth of investment in the industry will allow Ukraine in the near future to achieve self-sufficiency in pork production," said the expert of agricultural markets, Alina Zarko.