MAGAZINE: Piglet castration is hard to end – Perspectives for 2030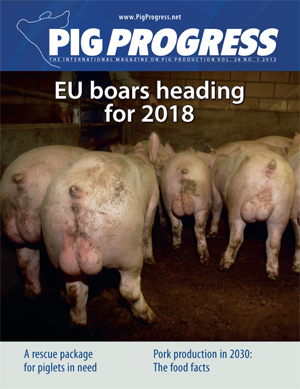 Pig Progress 28.01 is out and features a range of interesting topics for anybody in the global pig industry.
In the European Union there may be a sector-wide agreement that
physical castration
is about to be banned by 2018, that does not mean that clear solutions are easy to find. "How to get there?", was the question that kept many delegates busy at the 'Boars Heading for 2018' symposium, held in Amsterdam. The road is still long, that's for sure.
More forward-looking content in this issue as Dr Luciano Roppa looks a little further ahead, to
the year 2030
. Using all possible data he draws a picture of what global pork demand and supply will be by this year. With China and India on the rise for protein demand, it may not come as a surprise that producing more sustainably is not a choice – it is a must.
The environment
receives more attention when pork production is being critically observed using a Life Cycle Assessment. Especially the finishing phase puts a heavy strain on the environment.
In our monthly
farm visit,
Pig Progress
had a look at the English Hall farm, located in Yorkshire, and discovered how computerised feeding and monitoring can even be applied in lactating sow houses, using wireless feeder systems.
In the article 'A rescue package for piglets in need', the concept of
rescue decks
for the weakest piglets in a litter is explained. Using this philosophy and approach, even the younger animals in need can be helped to get through the first weeks of life.
Denmark's annual Pig Production Congress is called
Svinekongres
and in the review the focus is on the incredible breeding figures for which Denmark is well known. A case study is written down – 32 piglets/sow/year is feasible and Danish Katrina Mikkelsen explained how she does it.
The monthly column by John Gadd focuses once more on the
Farm-Specific Diets
and special attention is given to costs.
What kinds of
biosecurity
exist, what do they mean and how can they help keeping out diseases? These questions are answered by Stefaan Bekaert, Roxell, in the monthly Expert Talk section.
Last but not least,
Pig Progress
introduces a monthly
Nutrition FAQ
section – in which Dr Ioannis Mavromichalis poses nutrition related questions – and answers them too! The kick-off is related to feed manufacturing issues. Feel free to send your own questions to
info@pigprogress.net
.