MAGAZINE: Global health survey among pig producers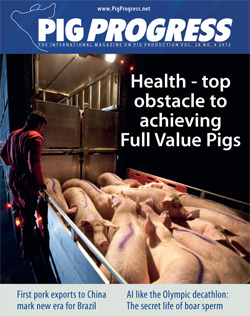 In cooperation with animal health company Elanco, Pig Progress is proud to present the results of recent global survey into health issues among pork producers. Read more about it in a comprehensive report in Pig Progress 28.04.
The article includes eleven figures, spread out over more than four pages, and it takes the reader through many modern-day health aspects of pig production. Questions revolve around which are the major health challenges encountered in the last year and how to achieve Full Value Pigs?
Several articles have been devoted to the theme of breeding in this issue. In a very well written article called
'The secret life of sperm',
author Stuart Revell takes readers in detail trough the life of a boar sperm cell. Do not forget to watch the video too,
click here!
Netherlands-based pig breeding organisation Topigs recently introduced Nador, which could be called the breeder's approach to deal with boar taint issues. Why not sort pig genetics until they are
low in boar taint?
In Pig Progress 28.03, the concept of
potato peptides
was introduced, to have a beneficial effect in piglets. The approach was also demonstrated to be beneficial on reproduction parameters, writes Dr Dennis Smulders, Huvepharma,
in a follow-up.
For all EU's pig breeders that did not yet convert their pig houses to the
new 2013 legislation
– Prof Dr Dominiek Maes of Ghent University has the answer.
As for regular sections:
The farm visit
takes readers to the UK once more – correspondent David Burch visited Bishop Burton College Farm in northern England and noticed how high performance and high welfare can be joined together.
The Expert Talk
contribution is compiled by Alan Doyle, European business development manager, Anitox, who writes about the role of feed in controlling Salmonella in pigs.