Longer feeding of yoghurt leads to higher piglet weights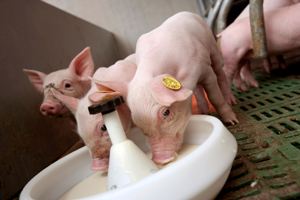 A trial at a breeding farm in the Netherlands with newborn piglets showed that those fed a yoghurt product for a longer period, two weeks after farrowing, resulted in higher feed intake and higher post-weaning growth rates.
The trial was conducted at a breeding farm by Sloten, producer of Nuklospray Yoghurt, a yoghurt product for newborn piglets as an addition to sow milk, to be fed as from day 1. The product contains higher amounts of dry matter than conventional milk replacers.
Among pig breeders, there was a strong demand at what period of feeding optimal results could be achieved, as many have been applying a different feeding strategy. For this reason, performance of two more or less identical groups were compared.
One group received the yoghurt product for one week after farrowing – the other for two weeks. Afterwards, both switched to porridge piglet feeds. The data show that piglets fed the yoghurt during two weeks achieved better results.

Table 1. Difference of feeding yoghurt for one week longer.

Table 2. Results trial 1 week yoghurt vs 2 weeks yoghurt.
Figure 1. One week more yoghurt product leads to more uniform litters and less piglets staying behind – see the blue line.
The benefits of improved health and higher growth right from the start will continue until slaughter.
Related website:
• Nuklospray Yoghurt