Lienert and pig farmers address nutritional challenges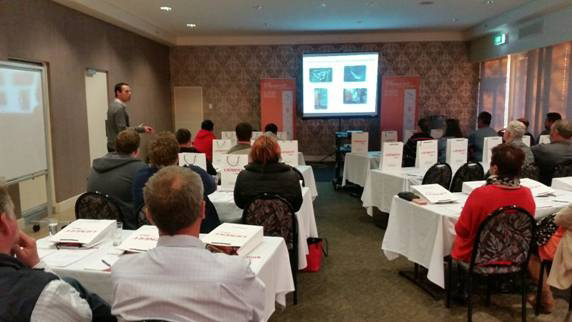 Lienert Australia emphasised its commitment to education in Australia through a recent roadshow, bringing pig farmers together at stops across the country to learn more about improving nutrition.
More than 100 pig farmers gathered in New South Wales, South Australia, Queensland and Victoria to hear experts discuss solutions for the challenges facing the Australian pig industry.
Local sales representatives welcomed the audience at the eight stops.
How nutrigenomics has impacted pig nutrition
After Mark Peebles, Lienert general manager, provided background on Lienert and its history, Nathan O'Brien, national sales manager, Lienert Australia, spoke about factors holding animals back. He highlighted Alltech's investment in nutrigenomics, sharing some of the key findings in research and discussing how nutrigenomics has impacted pig nutrition.
O'Brien pointed out that while Australian sows are producing on average 23 pigs per year, they lag behind countries such as Denmark and the Netherlands where sows are producing close to 30 pigs per year on average. He emphasised, "If we don't know how nutrition affects gene expression, we can't close the gap!"
importance of nutrition through weaning
Rohan Wundke, technical manager, Lienert Australia, spoke of the importance of nutrition through weaning, stressing that a good creep feeding program can improve weight gain, promote gut development, reduce digestive disorders and improve lifetime performance. He recommended starting to feed Blueprint creep feed, which is highly digestible and highly palatable, at 7-10 days of age to ease the transition to solids and assist gut development then continuing with 5 kilograms per piglet post weaning. "Early gut development is critical. Good villi and cell structure can increase nutrient absorption and provide a physical immune barrier against pathogens," he said.
Importance of ensuring creep is offered in the right dispenser
Wundke stressed the importance of ensuring creep is offered in the right dispenser, kept fresh by feeding three times a day pre-weaning, and offered with clean water via a bowl or nipple. He emphasised the importance of attention to detail, recommending that every pen should be inspected regularly. Wundke highlighted that early weight gain and good gut development can improve pigs' lifetime performance. "Developed through nutrigenomics, Blueprint can help to address nutritional issues on farm, such as digestive disorders, weight gain and health status," said Wundke.
Blueprint nutrition program
Damien Kelly, key account manager, Lienert Australia, spoke about Lienert's ability to offer on-farm support through the Blueprint nutrition program. One element of this is Alltech 37+ mycotoxin analysis, which has to date tested more than 5,200 feed samples. Of these, 99.68% were found to contain at least one mycotoxin and on average, 7.3 mycotoxins were found in each test. Additionally, the Blueprint report uses models and other tools to offer recommendations, updated plans and formulations. "Blueprint is a premium nutritional program designed through decades of research and practical application to unlock the genetic potential of livestock and support the animal through all phases of production," Kelly said.
Ty Yeast, managing director, Alltech Australia/Lienert Australia, encouraged Australian producers to use the technologies available and think big. "40 piglets per sow per year is ambitious but not impossible. If the Danish can do it, so can the Australians," he said.