Japfa Hypor Genetics Company celebrates 700 sow breeding farm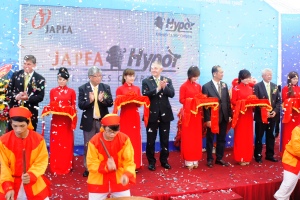 The new joint venture Jafpa Hypor Genetics Company (JHGC) celebrated the grand opening of its brand new 700-sow, high-health pig breeding farm in Vietnam.
The-state-of-the-art facility is the first of its kind in Vietnam. More than 200 invitees from all parts of the world attended the opening ceremony. JHGC is a joint venture between Vietnam's leading animal feed producer Japfa Comfeed Long An Ltd (Japfa) and global swine genetics company Hypor BV (Hypor).
Construction of the 700 sow nucleus farm was finished this summer and Hypor breeding stock, consisting of the two dam lines Hypor Large White and Landrace and the sire lines Hypor Maxter and Magnus, will populate the farm in the next quarter. With this product portfolio built on Hypor's strategic pure lines, top genetics will become available for the Vietnamese pork value chain.
Company information
Japfa Comfeed Long An Ltd is a leading broiler and layer producer in Vietnam. Based in Long An province the company has extensive operations in integrated poultry and pig production. Its core business activities include animal feed manufacturing, chicken breeding, poultry processing, and pig population in Vietnam in particular. Japfa has 24,000 sows in population and is rapidly expanding to 75,000 sows.
Hypor is one of the world's leading suppliers of swine genetics. Committed to providing superior genetics, that support profitability in the pork value chain. With its head office located in Boxmeer, the Netherlands, the company has strategically located and interconnected breeding centers in North America, Europe and Asia.
Hypor is part of Hendrix Genetics.