International Pig Event reaffirms China's pig vastness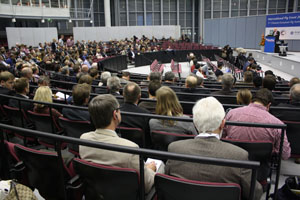 An interesting comparison between the swine industries of leading swine areas around the globe showed once more that in sheer numbers, swine production in Asia is uncomparable to any other region, country or continent.
Speaking to an audience of over 300 people at the International Pig Event, Dr Mike Varley, the Pig Technology Company, and Steve Malakovsky, AgStar, touched on the current situation in a host of countries, from the US and Brazil to the EU, Russia and the Asian countries.

The Pig Event, organised by the European Pig Producers (EPP), and traditionally held on the eve of EuroTier, in Hanover, Germany, was this year combined with the third Chinese-European Pig Summit. A delegation of 40 Chinese visitors attended the event as well.

As is well known, China is far ahead of any other country in pig numbers. Where China easily exceeds 450 million, the second pig country in the world, the USA, follows with just over 50 million. In order to make developments in the rest of the world visible, Dr Varley often simply took out China from his figures.

Perhaps the best illustrating quote to emphasise China's dominance is Steve Malakovsky's remark that "If China purchases an additional 1% of their pork from the US, it would take 4.98% of all US pork."

Brazil
Malakovsky, in his presentation, also touched on Brazil, saying that the country had exported less than in previous years, as the domestic consumption had gone up. Oddly enough, at the Pork Expo in Curitiba, last September, the Brazilians suggested the reverse – that pork had to be sold on the domestic market (against dump prices) as it couldn't be sold abroad.

Dr Varley gave a nice presentation of the current state of affairs in various European and Asian countries and made a SWAT analysis for swine production in both regions. He emphasised that for European companies to succeed in Asia, it is essential to appreciate the people and the culture.
Briefly, also Mrs Gong Guijen, deputy secretary general of the Chinese Animal Agricultural Association (CAAA), and Erik Thijssen, EPP president, addressed the audience.
EuroTier will start today and will last until Friday, November 16.
Related website:
EuroTier