Indonesia: Discussion about banning pig farming in West Java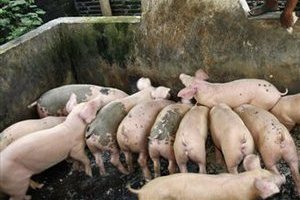 The Legislature of West Java region is planning to discuss banning pig farming in West Java, said Koesmayadi Tatang Padmadinata – head of animal husbandry agency of West Java recently in Bandung.
"If the legislature approves the ban, hundreds of pig farms in West Java will be closed," said Padmadinata.
According to data from animal husbandry agency of West Java, the total population of pigs in West Java is not reached 1,000 heads. Per year is only producing 87 tonnes of pork and the majority are sold to Jakarta.
Padmadinata revealed that the location of West Java pig farms prompted the discussion on banning pig farming: many of them are located in the highlands. According to local zoning laws, pig farms should be located in the lowlands. "Because according to the Indonesian council of Ulama, when the stream of water flowing from the highlands to the lowlands is contaminated by pig waste, then the water is 'haram' (unclean). And the majority of the population in West Java is Muslim," he explained.