Increasing sustainability in pig production systems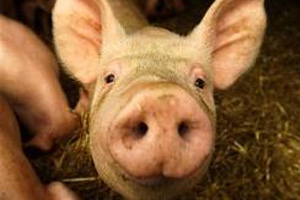 Modern pig production at all levels, from the farm to the sub-cellular, came under scrutiny at the recent DSM European Swine Symposium, with presentations on all aspects of pig production including sustainability, genetics, health, welfare, nutrition and management.
The latest research from Spain, Denmark, UK, Switzerland and Canada drew over 140 industry specialists to the autumn event, held in Madrid, Spain under the title Preparing for modern pig production.

Symposium chairman Matthias Wiemann, DSM's European swine manager, said the industry will play a crucial role in meeting the growing worldwide demand for meat protein: "The pig business today is facing several challenges from modern high-prolific genetics, welfare and environmental regulations, to sustainability. But most importantly, good profitability is still fundamental.  This needs good management, efficient systems and proven products, all based on the best international research."
This theme was amplified by Dr Helen Miller, who looked at the role modern phytases can play in releasing phosphorous (P) from vegetable ingredients and potentially remove the requirement for inorganic P supplementation in modern pig diets. Her paper, 'Requirements for bone mineralisation and phytase impact,' explained how P from vegetable material was generally locked-up in phytates.

Dr Miller, from the School of Biology at the UK's Leeds University, told the Symposium: "Phytate itself is not indigestible, but it forms salts with cations at the low pH in the stomach that are largely insoluble in the small intestine and inaccessible to enzyme action." She cited three key issues related to vegetable phytate, its impact as an Antinutritional factor (ANF), the binding of divalent cations including proteins and amino acids, reducing their activity and availability, and the lock-up of P.
Phytate as an ANF is thought to inhibit digestion by reducing nutrient absorption and thereby reducing feed conversion rates, the binding of proteins in the stomach may increase both energy and protein requirements, and the lock-up of vegetable P requires inorganic P to be added to the diet, leading to high P excretion and associated environmental issues in the manure. Dr Miller said: "Low levels of phytase release sufficient P and Ca to meet animal requirements. Increasing levels continue to promote production."

The mechanism is unlikely to be additional P response directly, rather: removal of the ANF status of phytate increasing protein solubility; increasing availability of Na, Ca, amino acids and energy; and reducing endogenous losses. Dr Miller also outlined the possibility that Myo-inositol, the central molecule of phytate that is released by phytase, may be an important nutrient in its own right and has been observed to have growth promoting effects in chickens. She concluded: "Bone P is a good indicator of P availability and hence phytase efficacy, but performance criteria give the best indication of optimum phytase levels."
DSM has taken phytases to the next level with Ronozyme HiPhos, which greatly increases availability of vegetable P and is heat stable, enabling easy inclusion in animal feeds and allowing removal of inorganic P and its associated environmental issues. Adding 200g/t of Ronozyme Hiphos has been shown in broilers to allow a 70% reduction in metabolizable crude protein (MCP) compared to a diet without phytase, yielding a comparative greenhouse gas reduction equivalent to driving a car six times around the world for every 1,000 broilers produced.

Dr Philippe Becquet, senior regulatory affairs manager at DSM Switzerland, said the Ronozyme enzyme's ability to improve digestibility improved resource efficiency and reduced the level of nutrient excreted. In his presentation, 'A sustainable approach to modern pig production,' he defined resource efficiency as the quantity of feedstuffs used per 1kg of animal product and said reducing nutrient excretion resulted in lower emissions and also impacted on manure issues.
Calling on the industry to adopt a sustainable mindset, meeting the needs of the present generation without compromising the ability of future generations to meet their own needs, Dr Becquet considered the key environmental issues impacted by pig nutrition and the role DSM and its products can play in reducing that impact, particularly greenhouse gas emissions and eutrophication. In addition to Ronozyme he identified a further five DSM products that have a positive environmental impact: Crina, Cylactin, OVN, VevoVitall and the specific vitamin D3 metabolite, Hy●D.

Dr Daniel Barreda, of the Department of Agriculture, Food and Nutritional Science, University of Alberta, Canada, identified an increased interest in the extra-skeletal roles of vitamin D3. He told the Symposium: "The impacts to cellular immune responses are relevant for host antimicrobial defense mechanisms, inflammation, hematopoietic cell turnover and others."

Dr Barreda's paper, 'Examination of novel roles for vitamin D3 in pig immunity and health,' discussed a recent study that examined the modulation of weanling pig cellular immunity in response to diet supplementation with 25-hydroxyvitamin D3. "Analysis of functional traits showed that leukocyte cell numbers (P < 0.05) as well as proportions of individual granulocyte (P < 0.01) and lymphocyte subpopulations (P < 0.05) were significantly and differentially affected," said Dr Barreda.
"There was also positive modulation of leukocyte survival across blood (P < 0.01) and bronchoalveolar (P < 0.05) compartments, highlighting the potential contributions to systemic and mucosal antimicrobial responses." Dr Barreda said this was consistent with a parallel up regulation in phagocytic functional responses in HyD supplemented pigs (P < 0.05), but acknowledged there were still challenges in identifying the mechanisms involved in these cellular changes.
The importance of controlling zoonotic bacteria at farm level was highlighted by Professor Lucas Dominguez, who identified pig meat as the second most important source of human infection in the EU, accounting for 10.2% of zoonosis outbreaks. Presenting a paper on 'Strategies on the control of Salmonella in modern pig production,' he said: "Measures should be based on strict hygienic practices, disinfection, biosecurity and management of the animals to avoid stressful situations and cross-contamination."

According to Prof Dominguez, of Visavet Health Surveillance Centre, Complutense University of Madrid, a decrease of Salmonella prevalence in pigs can be achieved by implementation of monitoring programs as already shown from poultry sector. Additionally there may eventually be a reduction in the prevalence of Salmonella through use of natural feed additives that affect intestinal micro flora. Nevertheless a combined approach of several measures will be key for success.
Management and nutrition were key themes of Dr Gunner Sorensen's presentation, 'Feeding the modern sow's genetics' while looking at the Danish target of 35 weaned piglets per sow per year. Breeding performance and longevity of sows relies on the correct management of gilts. On productive units, a main focus has to be on preventing them getting too fat or too thin and regular evaluation of body condition – at farrowing, weaning, first gestation check and 70 days into gestation. Based on those measurements the individual sows' feed dose has to be adapted during the gestation period. Additionally the topic of stomach ulcerations in sows was addressed and how to minimize it via coarse-grained feed. Feed changes and water supply also have to be considered in reducing the incidence of ulcers.
Dr Sorensen, from the Danish Agriculture and Food Council's Pig Research Centre, said farms should aim for good management of the sow which will lead to good care of the piglets, as a high number of weaned piglets will only be achieved via maximized milk uptake. "Only sows in good shape and with good milk production will care best for the piglets. Further on, a low weight loss in lactation will lead to a higher litter size in following cycle."

In summary of the presented papers the Symposium reached the following conclusions:
•    Optimized usage of phytase leads to better P utilization and better pig performance
•    Modern sow genetics demand close attention to nutrition and management
•    Feed additives support sustainability via lower resource needs
•    Immunity of piglets can be triggered via 25-OH-D3 supplementation
•    Monitor programs are key for control of Salmonella in pig units

Transferring these research findings to the European pig business will ensure a bright future while facing the modern challenges ahead.