I had the wonderful opportunity of spending 2 days in Copenhagen, Denmark, participating in a workshop on loose farrowing systems for sows. Now given my role as an assistant professor at The Ohio State University, I spend a lot of time participating and joining conferences both on a national and international basis.
Conference presentations and proceedings provide a first glimpse at novel areas of research being explored and often help shape the path of our future research questions and interests. Although I have enjoyed and have certainly learned from almost every continuing education programme that I have attended, this workshop was different.
Diversity of the audience
As I gathered my things and entered the room where the workshop was being held, I was overwhelmed by the diversity of those in the audience. Typically, I am surrounded by researchers and academics who focus much more on the scientific approach to answer questions rather than the realistic approach to implement solutions on-farm.
To my surprise, as I sat down at my table I was surrounded by veterinarians, swine producers, allied industries and research scientists all dedicated to improving pig welfare on-farm. Not only was the workshop diverse in the fields and interests of those participating, but also encompassed a strong international perspective, hosting over 10 countries with varying experiences in loose farrowing systems.
Re-designing the loose farrowing pen
In contrast to some conferences that schedule the entire day with 30 minute presentations, this workshop focused much more on hands-on problem solving among the group. Developing, designing, destroying and redesigning the perfect loose farrowing pen encompassed much of the second day.
Groups of 5 participants with a range of backgrounds and skill sets sat around tables cutting out feeders, creep space for piglets and enrichment devices to carefully piece together the puzzle for the perfect farrowing pen.
Optimising sow and piglet welfare
This hands-on work allowed us to go beyond thinking about loose farrowing from a scientific perspective and challenged each one of us to think in a way that optimises the sow and piglet's welfare, the labour requirements from staff and the economic impact to the producer. This type of approach to a complicated question like loose farrowing systems is the step in the right direction for making positive improvements.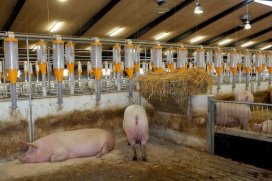 Pig production in Denmark – what is it like?
Although we did not unanimously agree on the perfect farrowing pen design, this opportunity allowed us to develop strong collaborations and utilise a holistic approach to successfully implement loose farrowing systems. This was an invigorating and refreshing approach to solve a problem and I was glad to be a part of it. The success of this workshop was based not only on those that participated but the background work and preparation put in to such an event.
Taking advantage of international expertise
Vivi Aarestrup Moustsen, a fellow contributor to Pig Progress, with the support of the Danish Swine Research Centre, deserves most of the credit as she worked tirelessly to develop such an effective 2 days.
As I sat on the airplane heading back to the US I did not think about the research questions or experiments, but acknowledged the importance and how we approach issues. I realised we must take advantage of the international expertise, learn from the producers and caretakers working directly on farm, and join together as a unified group to successfully reach the goals for improving swine welfare.