Ghana's swine industry can do with more funding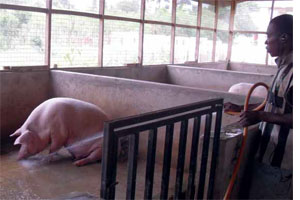 Throwing himself in at the deep end, Shane McAuliffe spent several weeks in Ghana to work in the country's swine industry. Although being pleasantly surprised by the professionalism of Ghana's pig industry, he notes that it is predominantly a lack of funding keeping Ghana from stepping up to a next level.
Having completed my undergraduate degree in Agriculture in 2012 – and before postgraduate work on a Masters in Livestock Sciences in Aberystwyth University, Wales, would take up all of my time, I wanted to volunteer in the developing world. Aiming to put my skills into practice in a veterinary clinic in either Africa or Asia, I threw myself in at the deep end, choosing a veterinary placement in Ghana with the organisation 'Projects Abroad'. This organisation sends volunteers all over the developing world to work on a range of projects.

Being in Ghana, once a week I visited farms where we gave free vaccinations and treatment to animals. I had the chance to witness diseases eradicated in European countries. Goats with Foot-and-Mouth Disease (FMD) simply have their faces and hooves scraped only to return a couple of days later with the same problems and more than likely after spreading the contagious diseases. In short: This is where I got to witness agriculture in Sub-Saharan Africa first hand.

Agriculture
More than half the population of Ghana is employed in agriculture which contributed to almost half of GDP and export earnings. Main exports include palm oil, cotton, rubber, tobacco and sugar cane.

Like anywhere else in the world, Ghana this year also suffered from high feed prices. An average bag of concentrates costs 120 cedi, which is approximately €48. This amount is relatively high when one third of the nation lives on less than €1 a day. Pig feed can consist of maize, wheat, barley, soya, tuna, vegetables and beans.

The average farmer with free range pigs who isn't lucky enough to have a substantial pig enterprise, feeds the pigs agri by-products and food residues. Pigs are valued because of their ability to convert these scraps into meat, enabling poorer farmers to spend less on high feed costs. Pig manure is a vital source of fertiliser for crops. These free range pigs are scavengers with usually a high infestation of worms.

My general impression was that the pig farms were more developed that I had expected. Swine producers on cooperative farms have a high standard of biosecurity – to say I was shocked to see more acceptable hygienic standards in West Africa than in Europe, is an understatement. Some farms had manned security gates which were followed by a vehicle disinfection dip. The pigs were kept indoors in pens which have natural lighting, natural ventilation and even secure bird netting. Veterinary health plans are in place along with vaccination programmes and abattoir feedback reports are sent to the vet on a monthly basis.
Veterinarians

All vets in Ghana are employed by the Ministry of Food and Agriculture. Emmanuel Acheampong, the veterinarian who brought me to the pig farms, said they have been struggling to become independent, as governmental controls are tight.
The much dreaded African Swine Fever (ASF) got into Ghana in 1999 and was eradicated in 2002. In recent years it returned via infected pig meat from neighbouring Togo but Ghana has once again successfully eradicated through a major surveillance operation, strict border controls, public awareness and a market value compensation scheme.

Many veterinarians, as well as many other agricultural professionals, have been studying at Kwame Nkrumah University of Science and Technology, located in Kumasi. This is reputed to be one of the most well respected science universities in all of West Africa. Their Animal Science department is a 20 ha farm which has the facilities to cater for 10,000 birds, a 60 sow herd, 100 cattle, 500 sheep and 300 goats. The university has a wide range of agricultural and veterinarian programmes at both undergraduate and postgraduate level. The meat processing unit can produce 60 metric tonnes of meat per year. Research and development is a big part of their work but lack of government funding is making things difficult. They provide training to locals and sell piglets at reduced prices.
Eliminating poverty
Intensive pig farming practices have the ability to help eliminate poverty in West Africa. More producer coops need to be started in order produce, process and locally market pig meats. Local markets will have a valuable source of protein. Lack of training, no access to credit and lack of improved breeds, however, make this operation difficult.

Ghana's most successful swine producing cooperative is Ejisu Juaben District Pig Farmers and Processors/ Marketing Association, located just east of Kumasi. Supported by several organisations, like e.g. the Kwame Nkrumah University and the United States Africa Development Foundation. The association's aim is to produce, process and market sufficient amounts of pig meat to feed the whole nation of Ghana. Improving new technologies in pig farming is also one of its goals. Ejisu Juaben therefore indicated that it is willing to import European breeds in an attempt to enhance the pig breeding qualities.

As said, however, the main problem for the further development of a professional swine sector in Ghana is funding, as it is difficult to access credit to start up a pig farm. For that reason, several Irish non-governmental organisations like Bothar and Viva (Volunteers in Veterinary Assistance) also do work donating breeding stock, equipment and training to impoverished communities, all over the developing world, although not in Ghana. Helping Africa start a piggery revolution is something I will happily look forward to doing in the future.