Germany: Domestic pressure pushes pork to world market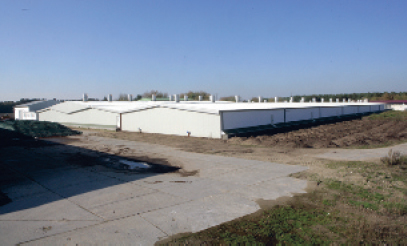 Just consider these figures: the average size of feeding enterprise in Germany increased by over 7% between 2008 and 2009, and 40% of units now have 1,000 feeding places or more. In eastern Germany, where there's a lot more room for expansion, this figure is over 80%.
More expansion is expected. But it's definitely a case of 'proceed with caution'. Feeders are already being warned that only the most efficient will survive the coming years of pressurised producer prices and probably above-average feed costs. Even now, the message is: "If you cannot produce slaughter pigs for total costs of well under €1.40/kg slaughterweight, then forget any plans of expansion."
As this €1.40 may well work out to be the average producer price for the whole of 2010, one can appreciate that there's not an awful lot of breathing space left for 2011 and the years to come.
10 million weaners imported
At the same time weaners imported by German feeders levelled at approximately 10 million in 2010 with around 3 million from the Netherlands and 7 million from Denmark. In fact, including around a million finished pigs imported for slaughter, every sixth pig ending up on the cutting line in Germany is now one that's been imported.
But there's expansion in the German piglet production sector too – as far as unit sizes are concerned anyway. Average herd size is now 110 breeding sows compared with just 75 sows five years ago. Again, this is only half the story because most expansion is taking place where herds have already reached 200 sows and more. In fact advised start-up herd size, at least in the northwest and east of the country, is now a minimum 400 sows.
As the smaller herds sell-off, sow numbers have dipped from 2.4 million in 2005 to an estimated 2.26 million at the moment. The number of farms involved has dropped 30% in the same time to around 20,000, according to Agrarmarkt Informations-Gesellschaft (AMI) estimates. Just ten years ago there were 47,000 sow herds in the country. AMI expects this diminishing trend to continue.
Weaner production disappearing
Another reason for the continuing disappearance of smaller weaner production units in Germany involves management and housing changes pencilled-in for 2013 under the new EU animal welfare directive. These include mandatory group housing for gestating sows and changes to space per pig, slat sizes and trough space. With just 25 months to go before the EU deadline for such significant changes, many pig production units haven't even got down to planning: an ominous omen that these new rulings will lead to a much bigger bleeding of smaller producers from the sector than so far imagined.
A second hurdle is the difficulty of expansion, even if the capital is available. Especially in the main pig production area of north west Germany, regulations demanding extra field area where pig numbers are increased have led to such a demand for land that it's almost unavailable at the moment – and certainly unaffordable. This is one reason why there's no accelerated move to create the ostensibly much more efficient self-contained farrow-to-slaughter systems applied in most other western European countries. Planning permission is becoming increasingly difficult to obtain. Adding a feeding unit to a breeding enterprise might offer production efficiencies – but in Germany it also doubles the red tape, and expense, of getting started.
So we have a situation in Germany tailor-made for an increase in imported piglets. Helping are reasonable prices such as the present ones for Danish weaners at 28 kg liveweight and delivered in batches of 100. The overall average for 2010 was around €45.
If supply from Germany's two neighbours remains at about the same in 2011 the price is expected to remain stable, although it's reckoned that the beginning of 2011 will probably see cheaper imported piglets for the first month or so.
The motor for export success
With its pig breeders fighting for survival and a slowly expanding feeding sector, the real silver lining on the German situation shines out from the slaughter and processing branch. This has developed into a very high-capacity, as well as fairly low cost, motor powering a flourishing export trade.
Such a development is crucial in a country where pig meat self-sufficiency has soared from 80% in the 1980s to 110% this year and probably heading even higher. It's also badly needed because pig meat consumption on the domestic market has slumped from around 60 kg per capita 20 years ago to 53 kg. Slaughterhouse throughput in Germany has increased from 48 million to 59 million in just five years. And there's still room for a 10% to 15% increase through 2011 and 2012, say the experts.This is fighting talk from a country that has already positioned itself as number two pig meat exporter in the world after the USA. Germany shipped 2.15 million tonnes abroad in 2009. That itself is a 5% increase on the year. The exports had five main destinations last year: Italy, the Netherlands and Poland (74% of exports go to EU countries) and then Russia and Hong Kong.
It looks like this all-important export market is going to have to be expanded even more because it is thought very likely that German slaughtered pig totals will hit the 60 million mark, maybe in 2011 but more likely the year after.
Export table
Dr Dietmar Weiß from AMI speaks of having to boost exports still further to maybe around 2.35 million tonnes in 2011. But there's going to be a lot of in-fighting amongst the world marketing leaders. After all, other major pig meat export countries, including the USA and Brazil, are expecting to increase production too.
And just how stable is the market anyway? This year Russia and China (through Hong Kong) snapped-up one third of German pig meat exports – January to June. But the Russian market, fighting to protect its own producers, is not something to bank-on every year. It could hang an embargo on German imports at any time and leave the republic's pig sector struggling for alternative markets. This is why experts are already cautioning that Germany's pig meat customer network must be spread more thinly over the globe. An area where German pig producers are obviously open-minded covers breeding because there are a huge variety of genes in the production mix. First of all, 20% of the national herd is reported as either purebred German Landrace or Large White, or own crossings. After that, every important international breeding company is represented with the Danish Danbred (DanZucht) ahead at the moment, supplying 12% of all sows. Topigs, market leader in the Netherlands, ties with PIC for the next place, each with 10% of the national herd, closely followed by Germany's own breeding organisation BHZP (8%). Notable among the remaining suppliers are German Hybrid (SZV), Hülsenberger, Hypor and JSR.
This article also appeared in two weblogs on:www.pigprogress.net
EuroTier 2010: A record of 140,000 visitors
EuroTier 2010, held 16-19 November 2010, attracted a total of more than 140,000 visitors. The animal husbandry and bioenergy trade show, held in Hanover, Germany, also greeted 23,500 international visitors from 78 countries – a 6% increase in comparison to the 2008 edition. The largest detachments of foreign visitors came from the Netherlands, Denmark, Austria, Switzerland, Poland, Finland, the United Kingdom, Russia, France and Ireland. Dr Reinhard Grandke, CEO of the organising German Agricultural Society (DLG), said that the show's record attendance had reflected 'the optimistic mood in the sector'.Despite the absence of a World Poultry show, the number of exhibitors increased by 8%. Altogether 1,939 direct exhibitors and 28 additionally represented firms from 49 countries presented their programmes and innovations. Approximately 40% of exhibitors were of foreign origin. The section BioEnergy Decentral presented 550 exhibitors from 20 countries and they met with exceptionally high interest, Grandke said. Some 42,000 specialists visited this exhibition, including nearly 7,000 international visitors. Grandke said that livestock farmers are now setting their agenda for the future. "As a survey of visitors conducted by an impartial market research institute shows, around 60% of the visitors plan to invest. This high level shows that business farmers will continue to put every effort into developing their operating concepts. EuroTier 2010 with its comprehensive information programme has provided orientation and guidance for them here."Innovations of this edition of EuroTier can be found on the next pages; more images from EuroTier can also be found on www.pigprogress.net/photo-gallery. The next EuroTier with the World Poultry Show and BioEnergy Decentral will be held in Hanover, Germany, from 13 to 16 November 2012.
Innovations at EuroTier, 16-19 November 2010, Hanover, Germany
The demand for high hygiene standards increases in-line with the need to produce welfare-based high quality pig meat for an increasingly discerning public. One single disinfectant product that can tackle a wide spectrum of pathogenic organisms is a welcomed innovation, aimed at saving costs and labour in practical farming. The award-winning Desintec FL-des Allround, put on the market by Agravis and Kesla Pharma Wolfen, combines an effective component against bacteria, microbacteria, fungi and viruses with one offering parasite control.
German animal health company Bayer Animal Healthpresented tools for pig producers to gain insight into the health status of their farms. On the market now are pig-farm proof checklists for piglets from prenatal sow management to weaning. Colourful, easy-to-read and printed on strong paper, they can be carried through pig farms and be used whenever needed. For now, the tool is only available in German.
* In addition, the company launched BayTool – an online programme to monitor the fight against unwanted visitors on-farm, like rats, mice or flies.
In the QuigTag method, location signets in the animal housing steer the software in the smartphone and facilitate navigation in the software. Not only are the animal ear tags read out via the smartphone, but also previously loaded location and action signets/ symbols facilitate and accelerate programme operation.
Entries of actions in the animal housing via keys and touchscreen are reduced. Clear symbols steer data capture without any laborious menu guidance. QuigTag, launched by Big Dutchman, won a silver medal.
Automatic pregnancy scanning
Sonocheck was one of the innovations presented by Big Dutchman – and the only pig-related innovation that won a gold medal. Surely the logical step in computerised pig herd management. This one not only makes management easier, it also has the potential of greatly reducing stress for the animals concerned. The post-service sow is scanned automatically while she is at the feeding station and the scans relayed to the herd computer and automatically analysed. Warnings are posted on-terminal or via mobile phone if the scans prove negative. Naturally the manager can intervene at any time.
Dosatron, the French manufacturer of systems for medication through drinking water, introduced the Diaphragm range, usable for farms with low pressure water or low pressure demand. The range is aimed at injecting medication into water systems in livestock operations in ranges from 1-4% (the DIA4RE model). The innovation was needed as some farms are dealing with water tanks with low pressure, or require water in low amounts, e.g. for young animals or small groups. The technology can deal with pressures varying from 0.15 bar up to 5.5 bar. Water flow ranges can vary from 4.5 litres/hour to 2.5 m 3 /hour.
Henke-Sass, Wolf, German manufacturer of high-quality injection systems, launched a new series of long-distance injection bars. Available in two sizes varying from various decimetres to 83 cm (working length) – 102 cm (total length), they allow pig producers to vaccinate pigs without having to come too close. This improves safety and reduces stress in pigs and producers. The long injection devices are made of carbon-metal materials, which is flexible and unbreakable. In addition the company offers rigid and flexible extensions with shorter lengths that can be adapted to all their syringes.
Vaccine for neonatal diarrhoea
Spanish animal health company Hipra introduced its latest addition to the portfolio – Suiseng, a vaccine against neonatal piglet diarrhoea and sudden death in sows. The vaccine, administered in sows, will lead to neonatal piglets passively being protected against diarrhoea caused by E. coli and Clostridium perfringens type C. It also prevents sudden death in sows themselves by neutralising
α
toxin of Clostridium novyi. The vaccine incorporates a new generation water-based adjuvant, which includes saponins extracted from Ginseng, called Hipramune-G.
As Europe is moving towards boar fattening, German equipment and pig house manufacturer Hölscher + Leuschner presented a system which allows for entires and gilts to be kept mixed, called BoarSort. The novelty is an automatic feeding and sorting machine, separating on gender. Keeping boars and gilts mixed in large groups (250-400 animals), shows reduced aggression and injury potential, especially in boars. In addition, the system allows for special feeding programmes, e.g. higher amounts of lysine can be supplied through the system.
Hysolv presented Footcheck, a both simple and effective way of improving farm hygiene and biosecurity. The new type of footbath has internal measuring chambers to ensure the right concentration of disinfectants. Putting the box in an angle of 45 degrees (as shown), allows producers to fill the footbath with the exact amount of disinfectant, prior to placing the bath flat to fill with water. In addition, the footbath comes with a simple sticker monitoring system to monitor who filled the bath and when the contents need to be changed. The footbath is made of durable HDPE, designed to be robust and easily cleaned.
Biodegradable AI catheters
Two AI companies from the same country (France) – IMV Technologies and Landata/ Cobiporc – have individually developed the hygienically advantageous innovation of fully biologically degradable catheters for sow insemination. This is a money-saving development in countries where used catheters are treated as 'special refuse' and have to be boxed and collected separately for disposal at considerable cost. The new catheters can be disposed of in the manure and rot down within a few weeks. IMV developed the Truegreen AI Catheter; whereas Landata/ Cobiporc launched the Biocath (photo).
Soft rubber flooring is a development that's been tested successfully with cattle in passageways and is now being tested for pregnant sows for their lying areas. Only last year a trial at the Baden-Württemberg Boxberg Pig Breeding Institute showed that rubber matting on sow service centre flooring reduced hoof and leg injuries by over 30%. Lifetime performance therefore increases and it represents another step towards modern higher-welfare housing. There were various companies exhibiting the soft floor approach. One good example was Kraiburg Elastik's Porca Relax.
Dutch electronic livestock system manufacturer Nedap launched its Velos Sorting for finisher pigs. The animals are kept in groups of approximately 250-400 animals. The machine combines weight and identification to select the right amount of animals. This information can be useful for all stakeholders, be it the feed plant, the veterinarians, managers or the processing plant. For the identification, Nedap uses LiveID, with a passive RFID tag, combining optimal reading range with the lowest loss rates. It is light enough for young born animals and powerful for mature animals.
Austrian livestock equipment manufacturer Schauer introduced various novelties, among which was the Energy Feeder (photo), an automatic oil feeding machine, to be used for farrowing sows. This element offers producers the opportunity to add oil to feed in limited amounts – a practice which is quite common in Austria as it is known to help improve the milk yield considerably. * Also introduced were gestation crates with an easy flap door, which can swing both outward and inward – and can also be fixed. This facilitates AI and gives a good overview of the dry sow house.
Dutch pig equipment supplier MS Schipperslaunched a solution to increase litter sizes with highly prolific sows – a creep divider (photo). The system, now on trial, features a divided creep, each section having its own automatic access flap to the sow. Dimensions have not been decided on so far.
* In addition, together with AgriSyst, Dutch company Schippers introduced high frequency applications in ear tags, of which the cost price is low. The HF application allows animals to be scanned simultaneously and data can prove to be a valuable source of information.
Nuklospray is a yoghurt structure for supplementary feed and milk replacer for suckling pigs, developed by Dutch animal nutrition company Sloten, and in trials it was proven to encourage uptake as from day one after birth. It is a new way of getting young piglets more used to the idea of solid feeds. The nutrient composition of the feed supplement is designed to be complementary to sow's milk, but has a modified viscosity to control the digestion. This results in specific influences on acceptance and hence on feed uptake, as well as on digestive physiology.
Dammann & Westerkamp (Weda) introduced the MIX (Mobile Information Xtraction), a black and white encryption code attached to its feeding units. The method allows for simple sourcing of technical and service-relevant information via internet-capable mobile phones or smartphones, through the use of QR (= quick response) codes. With this (free) application, farmers or technicians can obtain information on the machine, on fault elimination or on spare part procurement very quickly. This allows a broad supply of information via the web, around the clock.