Germany: Difficulties meeting the 2013 sow housing deadline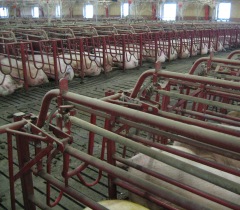 Financial and bureaucratic problems frustrate the efforts of about 30% of all German sow breeders to accomplish a conversion towards group housing by January 1 next year.
This message was communicated by Landvolk, the farmers organisation of Lower Saxony, Germany.
The organisation said that it is very difficult to raise funds for the reconstructions necessary for group housing for sows, as there have been long times of low prices for piglets. Investments amount to €250-€400 per sow place, or about €60,000-€100,000 for an average farm having 250 breeding sows.
Pig producers face bureaucracy as well as there is unclarity around the rules for sow group housing. Landvolk concludes that new demands are not alwasy interpreted the same way throughout Germany – and even pig house constructors or veterinarians are not sure to be giving 100% correct advice. In addition, there is uncertainty about potential stronger legislation in the future.
The organisation concludes that many sow breeders will shut up shop.
In many European countries the conversion is creating problems. In Denmark and the Netherlands, more than two-thirds of sow breeders have converted, whereas in southern Europe on average figures of one-third are being reported.
Related website:
• Landvolk