When evaluating swine semen, technicians often look at semen motility as a key characteristic. Quite a few things, however, deserve a closer look. It pays to understand well what is measured – and when.
Various technicians and laboratories have reported inconsistency when trying to benchmark either the predicted or guaranteed quality of refrigerated swine semen. A commonly encountered error when evaluating the quality of stored semen is confusion surrounding the use of "motility" as a parameter. That is often assessed using a subjective observation with a different parameter, known as "vigour" of sperm cells. Vigour refers to velocity, whereas motility refers to the movement and progression of diluted sperm.
Nevertheless, motility is considered to be the most important criterion when assessing fertility. It plays a critical role in the interaction process between reproductive cells. Following that line of thought, a reduction of the percentage of progressively moving cells is considered to be an indicator of cellular damage, which in turn would reduce fertilisation opportunities.
Motility measuring moment
Things are not black and white. Firstly, the moment motility is measured makes a difference. Different outcomes can be obtained when motility is measured straight after dilution or when it is measured just before insemination.
Secondly, much also depends on the type of extender. Does it make sense to have very motile semen straight after dilution – or would it make more sense to have the semen motile when it needs to do its job? Some extenders are capable of reducing metabolism to the lowest level in order to simultaneously avoid energy dissipation and reduce metabolic waste production, both of which can potentially damage sperm cells. Inclusion of specific specialised biomolecules to the extender can make the necessary nutrients available for the survival of diluted semen in a continuous and controlled way, which prolongs useful life and fertility.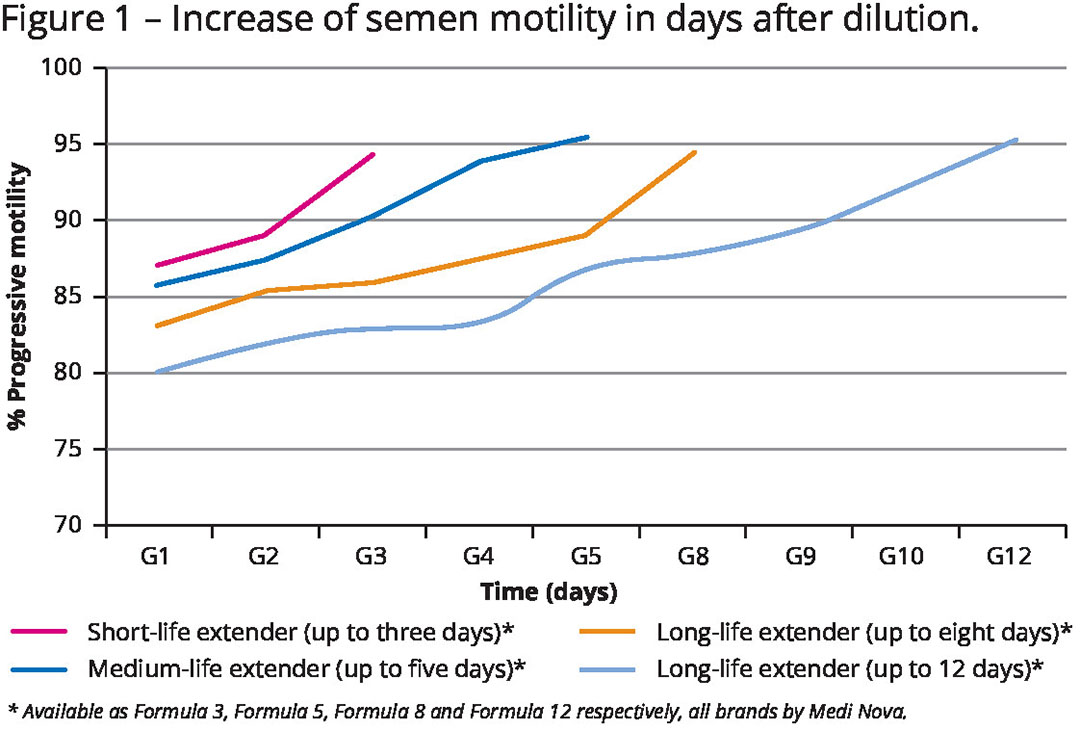 Preserving semen quality longer
That is exactly the case with Medi Nova's Formula line. The line's ability to modulate nutrient content is the reason why, immediately after dilution, sperm motility may be observed to be lower than expected. This can be interpreted as a guarantee of the product's ability to preserve semen quality for longer, as Figure 1 demonstrates.
Buffer capacity
Apart from the abovementioned characteristics, the line also comes with an excellent buffer capacity, serving to maintain the pH conditions that guarantee semen survival. In addition, the line contains membrane stabilisers, allowing the physiological conditions of sperm to be recreated by providing the semen with the highest protection.
Once more the old saying holds true: knowledge is power. Motility inconsistencies can be very well accounted for and can also be acceptable, as long as that leads to a maximum number of quality sperm cells arriving intact at the moment of insemination.