French pigholders set fire to lorry with Spanish pork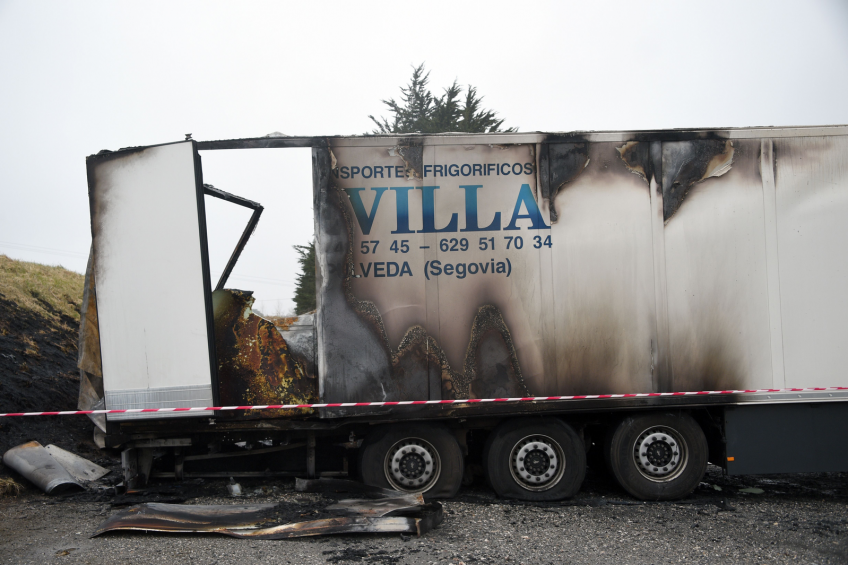 A group of French pigfarmers from Brittany have, this Sunday night, set fire to a Spanish lorry with pork from that country. The lorry was parked along the motorway near Landivisiau. The farmers also visited several meat factories to check whether there was any foreign pork in stock.
The pigfarmers in Brittany, by far the most important region for pork in the country, are protesting against the low prices they're getting for their animals. Last week, a group of farmers held a demonstration in the major pig auction in Plérin, holding a group of purchasers hostage for a few hours.
One of their main complaints is that meat companies use cheap meat from aboard instead of local produce. Therefore, a few dozen farmers took to the road on Sunday night to check the meat factories in the area.
[([002_67_rb-image-1721923.jpeg]:inzetgroot)]
At a factory of cook meats producer Jean Caby, they only found French meat. Nearby, the farmers convoy discovered a Lituanian-registred truck parked in front of a meat factory. Although it only had turkey from France on board, the farmers decided to offload one pallet full of turkey and set fire to it.
[([003_64_rb-image-1721925.jpeg]:inzetgroot)]
"We want to check with our own eyes whether our buyers stick to their promise to use French produce only," a spokesman for the regional farmers union FDSEA said.