France, pigs and 2013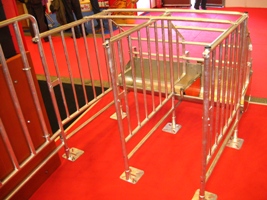 Walking around at the annual livestock show SPACE in Rennes, I wondered how France is doing with regard to the imminent 2013 group housing legislation for sows? One hears stories about Southern Europe still lagging behind in conversion figures – but where does France fit in?
The truth is, the French themselves sound pretty optimistic. Some 'departements' in France's pig production region Brittany are really well on the way, I'm told – as already as much as 30% of the pig producers have converted to sow group housing. The majority, small farmers, seem to opt for free access stalls or free access troughs.
Orders for Electronic Sow Feeding equipment have also suddenly started pouring in since spring this year, said the sales representative of a French livestock equipment company. And more is anticipated before the end of the year.
The 30% is a careful estimate I heard here and there as to the current state of conversion for the whole of France as well. One could say: that's already 30%!
I deduced that 70% is not yet converted, doesn't have the financial power to convert, hopes the EU will give them leeway or simply shuts up shop in December 2012.
The local newspaper Ouest France today broke with the news that total numbers of farmers in France had dropped to below 1 million and that total numbers of farms have come down 25% in the last ten years, to just under half a million.
Just not sure if I want to know the score in two years from now.