First litter allows further growth in breeding programme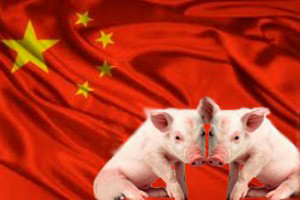 JSR's global breeding programme has been a success, seeing its first litter being born in China, announcing the spread of the company's genetics into a very important market.
The breeding herd, which is run as a joint venture under the name of Hubei Jinxu JSR Breeding Ltd in the Hubei province of central China, was stocked from three of JSR's main nucleus herds in the UK with two of the company's dam lines – Genepacker 1 and 2 – and two sire lines – Geneconverter 500 and 700.

The results from these first litters are extremely encouraging, with an 85% farrowing rate and a born alive rate of 11.7.

Almost 900 animals were flown across to China from the UK in June last years and these first litters represent the successful installation of the pigs in their new home, as well as the first step in a global strategy which will see JSR establish a production base of nucleus stock in China. Each of these new animals will boast its unique identification in order to allow for inclusion into JSR's global genetic improvement programme.

Identical processes to those used by JSR in the UK will be implemented and genetic software has already been translated into Chinese to allow for correct use on the joint venture unit.

JSR group training manager James Saunders has been instrumental in setting up the Hubei herd as well as providing training for the Chinese technicians charged with managing the stock.

He said: "All of those people with responsibility for the animals have undergone a combined total of 18 weeks of training both in the UK and in China, which involved the day-to-day running of a breeding herd, as well as the management of a genetic breeding programme.

The company has distribution rights into five provinces in China and will also be using the herd to supply customers outside these territories, mitigating the need to fly animals out to China from the UK.