Fifth year of SowBridge sow educational series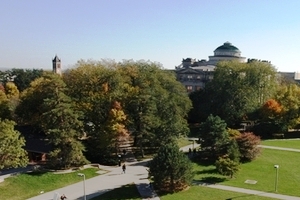 The successful distance education program SowBridge will begin its fifth year November 7th, and Iowa State University (ISU) animal science professor and extension swine specialist Ken Stalder said suggestions from subscribers help maintain the program's value.
"We asked participants for suggestions on topics and speakers, and are happy to provide current content on topics that people are interested in," Stalder said. "SowBridge provides all participants with the opportunity to hear directly from experts, and to contact those experts following the individual sessions."
Stalder, who also is the Iowa contact for SowBridge, said the program is intended for people involved in managing or caring for boars, sows, and/or their litters, including operation owners, employees, technicians, managers, and technical service providers. SowBridge is designed to improve the understanding and application of various tools and techniques involved in daily care of the breeding herd and piglets.
"People from the United States, Canada, and Ireland took part in this past year's program, and they told us they appreciated having the opportunity for all employees to participate in the sessions without requiring any travel or other expenses," he said. "With the live phone presentation and slideshow viewed on computer, participants do not need internet access and can take part from anywhere."
Entities with more than one location have the opportunity to add locations at a lower rate. Cost is US$250 for the first registration from an entity and US$125 for each subsequent subscription from the same entity. This provides access to one phone line per session and all program materials for each registration.
A brochure with information and a registration form is available at here.
SowBridge is sponsored by a group of 11 state universities – including ISU – from the major swine producing states.
IPIC was established in 1994 as a coordinated effort of the colleges of Agriculture and Life Sciences and Veterinary Medicine at Iowa State University. Its mission is to promote efficient pork production technologies in Iowa, maintain Iowa's pork industry leadership and strengthen rural development efforts. IPIC focuses its efforts on programs that are integral and complementary to ISU Extension. Through IPIC, Iowa producers receive accurate and timely information to make their operations more efficient and profitable.