Feet First Seminar: Tail biting costs more than just tails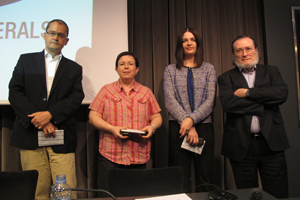 Irish research on tail biting has shown that both superficial as well as severe tail lesions contribute to serious financial losses. The total erosion of the profit margin due to tail biting amounted to 42% in the research.
This was explained by Dr Laura Boyle (pictured, third from the left), attached to the Irish Agriculture and Food Development Authority (Teagasc), at Zinpro's 6th Feet First Seminar, held last week in Castelldefels, close to Barcelona, Spain. The seminar also aimed to address issues indirectly related to pig feet, like animal behaviour, welfare conditions, nutrition and economy related issues.
Correlation
Boyle presented the results of a recent trial involving 3,433 slaughter pigs in which tail lesions were not only found to increase the risk of carcasses being condemned and trimmed, primarily because of abscessation, but also that tail lesions were associated with significantly lower carcass weights.
The researchers worked with a slaughterhouse where 99% of the pigs being slaughtered were tail docked. For every third pig on the line they recorded the tail lesion severity score (0 normal tail to 4 severely injured/amputated tail), farm, gender, carcass condemnation outcome, weight of partial condemnations and trimmings as well as carcass grade, weight and lean meat percentage.
Total condemnation rate was 2.5%, which equaled 85 carcasses. Total weight lost, including entire carcasses, partial losses and trimmings amounted to 2,219 kg. At a cost of €1.70 per kg, she calculated that this amounted to a total of €3,372 – or €1.10 per study pig.
The association between each tail lesion severity score and the carcass cold weight was examined. Carcasses which received a tail lesion score of 2 were significantly lighter by an average of 1.19 kg. This equated to 921 kg of lost potential pigmeat across the study pigs (774 carcasses with score 2). In comparison, pigs with tail lesion scores of 4 were on average 12 kg lighter but with fewer carcasses affected (13 carcasses) this equated to a total loss of 156 kg.
Carcasses scored 0 (normal) or 1 (mild lesion) were not significantly different (c. 80 kg carcass weight).
Carcasses which had parts partially condemned or which were trimmed (and would therefore have automatically weighed less) were excluded from this analysis so the results truly reflect the negative impact of tail biting on the growth performance of pigs.
In total 1,182 kg of pigmeat was not achieved due to tail biting which was valued at €2,009 at the time of the study. This was €0.60 per study pig. Combined with the pigmeat lost to carcass condemnation, this was €1.70 per pig. In total, she concluded, 42% of profit margin was eroded at slaughter due to tail biting.
In this respect, Boyle spoke of a 'significant and under-appreciated problem', pointing to several solutions to alleviate the burden of tail biting, e.g. by providing high quality environmental enrichment and improving thermal comfort in pigs.
In her presentation, Boyle also spoke of vulva biting. and its link with excessive aggression which reflects welfare problems for group housed sows. She pointed to causes, e.g. sows biting as they want access to feeding stations.
Feet first
The first presentation, and focusing entirely on pig feet, was given by Prof Dr Christoph Mülling (left on the picture), from the University of Leipzig. He zoomed in on histopathology of foot lesions and lameness issues and explained that even apparently harmless cracks or injuries may be dangerous. "They are likely to become worse."
He also introduced Rudi, a finisher pig that was trained to walk on a treadmill. This way the researchers are capable of following  exact movements of the pig's legs and which part of the claws actually touch the ground and bear the weight.
This is part of a project conducted at Leipzig University, which aims to bring better insight into the biomechanics of animal locomotion. He agreed with the suggestion that lameness (and lesions) are influenced by multiple factors and that it may not so much the feed as well as the surface that needs to be different.
Nutrition figures
Dr Nathalie Quiniou (second from the left on the picture), IFIP, France, spoke about the ideal nutrition figures for breeding sows. On the basis of own research, she introduced the 'U curve'. In the beginning of gestation, sows should be fed extra energy to recover from their previous lactation. Then, towards the end, sows would also need extra energy to prepare for the next farrowing.
Dietary requirements for an optimal vital and uniform litter would depend on other factors as well – e.g. the sow's breed, her condition and the farm's preferences. She explained that the ideal would be to include all theories and model in one computer system and then have a feeding station determine exactly what a sow would need.
Spain's economic future
The last presentation of the day was made by Prof Santiago Niño Becerra (right on the picture), a well-known Spanish economist, professor of structural economy at the University Ramon Llull, Barcelona. He was not afraid to analyse the condition of the country during the last crisis and even to make predictions. His message? It may take a long time before the country will fully recover.