Feedlogic: Launching real-time measurement of feed usage on farm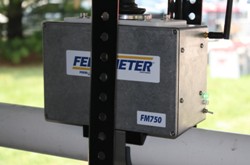 Minnesota, USA-based company Feedlogic, a supplier of feeding solutions for livestock production, is introducing FeedMeter at this World Pork Expo. The system allows real-time measurement of feed usage on-farm.
The device's core technology is a new process to measure the mass flow of feed through a standard feed line. The patent-pending system uses a simple, low-maintenance device which attaches to a feed line and uses software to calculate mass flow and record the data.
Information generated by the system can be used to monitor feed disappearance, detect feed bridging and feed outages, and manage feed bin inventories. It will provide important diagnostic information to help producers spot feed wastage and ensure the right feed is being fed to the right animals.
Telemetry technology
The system uses new telemetry technology to push data automatically to the Internet where it is easily accessible to the producer. Special 'mesh networks' allow multiple devices on one production site to connect to one communications hub, simplifying installation and connectivity.
The latest information as to feed supplies can e.g. be accessed by using a QR code on a smartphone. The meter is available for more various feed pipe diameters.
Drew Ryder, the company's president, told Pig Progress: "Still nowadays, you will find pig farm managers finding out the content of a feed bin by simply hitting on it or having a look into it from above. If the bins are almost empty, they are too late."
"Ideally, we'd like the data about bins getting empty to be sent to feed mill directly, so there new supplies can be made and brought to the farm."
Platform
This approach is essential in a wider programme, Ryder indicated. In a press release, he explained: "FeedMeter is the first of a series of products we are planning to bring to market which will provide livestock producers rapid access to accurate farm-level data."
"We are building a 'cloud-based' information collection platform using the latest telemetry technology which will give producers and their partners access to data they could never access before."
"Over the next 12 months, we will introduce a number of other products which will leverage the FeedMeter telemetry platform. These will provide producers with additional tools to measure and control production, improve efficiency, and lower costs."
Follow Pig Progress live at the World Pork Expo at Twitter: @pigprogress.
Related websites:
• Feedlogic
• World Pork Expo