EU gestation stalls ban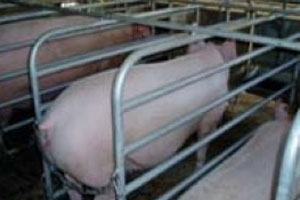 Timing is everything but can the EU pig industry take much more ill-conceived, ill-timed restrictions, with their adverse effect on cost of production, at this time, without some support?
If the UK's National Pig Association (NPA) is correct then 80% of the EU countries will not be fully compliant with the switch to group housing or the ban on gestation stalls, which the EU has introduced from January 1st 2013. More importantly, they estimated 2 million pigs/week or 40% of EU pig production will not be compliant. Is it any surprise? This is a much larger proportion of non-compliance than the ban on cages for laying hens but is it a reflection of the tough economic situation that many countries find themselves in since 2008?

It will have a major impact on pig producers, who would need to borrow substantial capital from the banks to make the necessary housing changes? At the Iowa Swine Conference in November, this was a major subject for discussion, as the US and Canada are also looking at the possible change to group housing and the difficulties that it entails. The average cost of conversion was put at $200-300/sow, so an average 500 sow unit would have to raise an additional €100,000 for the conversion or erection of a new building, depending on what type of system, they were going to employ. Are the banks in the southern and eastern parts of Europe keen to lend money for this?

In the UK in the late nineties, when we had to do this, many farmers, especially the older ones, decided they would rather put the money into their pension funds and got out of the business. Since then, the UK pig industry has struggled to compete with the rest of Europe because of the extra cost of production and saw its industry collapse by 40%. I doubt it will be as bad as this across the whole of the EU, as everybody eventually will be in the same boat but you can see why they delayed implementation to the last minute and apparently beyond. Are the countries doing anything to help pig producers?