Energy and environment at SPACE R&D pavilion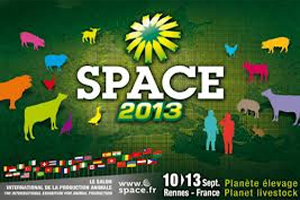 SPACE 2013, held in September 2013 in Rennes, France, featured a special Research & Development platform. This article sums up the most important innovations shown.
Covering an area of over 300 m2, it provided a wide range of new equipment, presentations demonstrations and debate to those in the animal production industry to look to the future.
The Brittany Chamber of Agriculture was co-organiser of the platform at SPACE. Philippe Augeard, in charge of R&D and training at the Chamber, said: "This platform has been existing at SPACE for 20 years with the target of thinking about future challenges. This R&D platform has been focused on various topics in the past, as environment, animal welfare or management."
After a focus on cattle building and equipment in 2012, this year's R&D platform was on pigs, poultry and waste recycling. Augeard said: "Our goal is to help farmers to stay in the business being profitable, and to produce more but with less inputs and less environmental impacts." Following surveys made by SPACE, 15-20% of the visitors at the show are interested by the R&D platform and visited it in the past years.
Frédéric Kergourlay, in charge of the pig and poultry industry at the Agricultural Chamber of Quimper, commented on each piece of equipment at the platform. He said, "Our target is to keep farmers' competitiveness due to good technical choices." One possible path to achieve that is by having larger and more specialised pig units for instance through collective farrowing units or specialised finishing farms, already a reality in 2013 in Brittany.
Energy saving
Energy saving is a major topic of the pig R&D platform. In the farrowing units, a piglet nest can be a privileged zone of heating, with a temperature of 30-35°C for the piglets, while the room temperature for the lactating sows will not exceed 18-20°C. An infrared sensor by Vengsystem, can measure the temperature of piglet skins and, through a regulation box, will adapt the lamp intensity.
Kergourlay says, "Using this system we have saved 75% of energy in the farrowing units of our experimental farm of Guernevez." The heating represents 80% of the energy consumption in farrowing units.
Ventilation represents 90% of energy consumption in finishing units. The Fancom ventilators presented at the R&D platform can divide by four the electricity consumption due to direct current.
Farrowing
In the farrowing units, Easytek is a simplified self-blocking of the piglets in a closed surrounding wall (proposed by I-Tek). Opening and closing of the Easytek are controlled by the sow through a control box (one for ten sow cages). When the sow gets up, the control box locks Easytek, avoiding the crushing of piglets. Kergourlay explains, "This system also helps the farmers to spare time during procedures and cares of piglets." When the sow lies down, there is no more crushing danger and piglets are again free to move out of the space.
In finishing units, the Tristar station (proposed by Acemo) is a weighing system with a sort of pigs according to their weight. It is used in the masts in large boxes of 250 to 350 pigs to automatically sort pigs for the slaughterhouse. Kergourlay said, "This equipment helps the farmers to have more homogeneous pig groups at slaughter and also helps the farmers to better follow each box' performances."
Another help to the pig farmer is the 'Modulosonde' by Acemo, a concept which optimises liquid feed consumption speed of fattening pigs. Kergourlay says, "If the farmer knows the feed consumption speed, he can then adjust the speed of the next feeding."
Environment
Environment was also another key issue of the R&D pig platform at SPACE. In this respect the V-manure scraper may be interesting, for separating solid and liquid manure fractions. Kergourlay said: "These scrapers can realise an ammonia emission drop of 50% with better animal performances." He adds that the solid fraction, containing 90% of all phosphorus, 55% of all nitrogen and 45% of all potassium excreted by pigs, can then be exported and valorised through composting. Such V-scrapers have increased the daily weight gain by +60 g/day and decreased the feed conversion ratio by 0.2.
Also presented: A biofilter filled by woodchips on which micro-organisms can naturally develop. This leads to a destruction of polluting matters and a reduction of dust. Kergourlay said, "This treatment aims to reduce by 80 to 90% ammonia emissions and smelling componants from pig units." Two conditions need to be met in order for the biofilter to work: A constant moisture rate should be maintained by premoistening or intermittent watering. In addition, the system must be coupled with centralised extraction ventilation.
André Sergent, pig farmer and chairman of the Chamber of Agriculture in the department of Finistère, concluded: "Our buildings are getting old but we can rely on a strong regional porcine sector and industry."