Early weaning: A strategy to deal with larger litters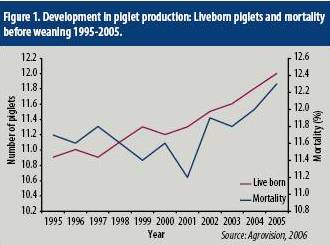 Genetic improvements of sows have led to an increase in the number of piglets born alive. It is obvious however, that not all piglets can achieve the same growth rate or enjoy the same chance of survival since sow milk production is often limited, as is the number of functional teats. Early weaning of surplus piglets can help to solve this problem and can improve the productivity and financial performance.
By Liesbeth Desmet, Trouw Nutrition, Ghent, Belgium
Having higher numbers of piglets at birth does not mean that they are all alive or vital animals, see Figure 1. In case a sow will farrow larger litters of piglets, partus should be a smooth process. Should partus in itself be easy, this will decrease the number of stillborn piglets and increase the vitality of piglets born alive.
The birth process – and piglet vitality and mortality – can be positively influenced by correct sow feeding management, e.g. controlling faeces consistency (avoiding constipation), adding specific vitamins, minerals and applying a targeted use of xalar salmon oil.
Automatic feeding: early weaning piglets are fed small quantities of liquid feed.
Not all problems around farrowing, however, can be prevented by the sow feed. Proper attention and assistance around farrowing will also increase the number of liveborn piglets. For that reason, a multi-week system is advisable.
First week after weaning
The piglets' technical results in the whole nursery period are predominantly determined by feed intake in the first week after weaning, see Table 1. The more a piglet eats during this first week after weaning, the more it will eat and grow during the rest of the nursery period; this has been established by Bruininx and others in 2001. Hence, immediate feed intake after weaning is essential for a newly weaned piglet.
In addition, a higher weight at weaning itself also helps, as this results in better feed intake and growth performance during the nursery phase. An optimal milk production may help to reach this goal, supplementary piglet feeding is another option. Supplementary feeding prepares the digestive system for digestion of solid feed after weaning.
In addition, piglets receiving supplementary feed while suckling are quicker to take in feed post-weaning than their littermates that were not supplemented (see Figure 2). A quick and sufficient feed intake after weaning will prevent the usual weaning dip and is essential for a sound start to the nursery phase.
Many liveborn piglets
In order to be able to wean a large amount of piglets smoothly, both milk production and supplementary feeding are essential. In highly productive farms, milk production (and/or the number of functional teats of the sow) might be a limiting factor. There are several ways to deal with these challenges.
1. Foster sows
Three to five days after farrowing, piglets of a good mothering-sow are placed with a sow that farrowed a week earlier. These sows' piglets are moved on to a sow that farrowed the week before that. In this way, piglets are moved on until they are with a sow whose piglets can be weaned. In practice however, moving young piglets to a sow that farrowed 14 or 21 days previously does not yield good results. In addition, it is often found to be very labour-intensive and the continuous moving of piglets could spread diseases between different age groups.
Within a multi-week system, the system of foster sows is less feasible, as the sows are more or less at the same stage of lactation which makes it very difficult to move the piglets. As shown in Figure 3, continuous cross-fostering is not recommended since it has a negative impact on body weight. Every three days three piglets were cross-fostered. Sows tended to become increasingly aggressive to new piglets causing a decline in these newcomers' suckling behaviour. The sow's own piglets even suffered from a retarded growth.
2. Automatic feeder
Using an automatic feeder in a special nursery may be another option for the very small weaned surplus piglets from four days on. In a system like this, macro and micro climate conditions are similar to the farrowing rooms – and every hour piglets are fed small quantities of warm liquid feed, encouraging feed intake.
As feeding happens automatically, piglets receive fixed rations according to a pre-set feeding scheme, which is similar to normal drinking behaviour at the sow.
Piglets weaned at e.g. six days have to adapt to the new feed and housing, but after one week growth progresses ending at the normal weaning moment with a small weight disadvantage compared to the piglets which were reared with the sow milk. At that moment, however, they are already used to digesting other feeds than sow milk which proves to be an advantage at the end of the nursery. Trials and practical experience have confirmed this – see box.
Wrapping up, one could say that early weaning requires some investments for producers, as the nursery section has to be adapted for the care of very young piglets. The approach aims to optimise the hygiene advantages of group housing management:
• There must be a sufficient amount of compartments in order to have the piglets be looked after in their 'working groups' from the farrowing pens.
• Pens are mostly built from synthetic material. At the back they can shelter in a nest, heated. The temperature in the nursery is kept at 28°C. PP
Early weaning put into practice
Soon after Bernard and Christa Wambeke began using a new sow house, using highly fertile sows, the couple faced an increased number of piglets. How to take care of them? A separate nursery and a revised feeding regime reduced piglet mortality by 50% in six months.
By Franky De Letter, Varkensbedrijf, Belgium
Bernard Wambeke, 43, and his wife Christa Wambeke-Voet, 43, own a farrow-to-finish operation near Pittem in West-Flanders, Belgium. In total, they have 770 sows on two sites and 800 finishing places elsewhere. Recently, the couple built a new house for about 350 gestating sows and a separate nursery for surplus piglets.
The 8 x 4 m nursery room is divided into two compartments of 4 x 4 m, each containing two pens. This approach aims to optimise the hygiene advantages of group housing management.
The pens are mostly built from synthetic material. At the back they can shelter in a nest, heated with delta tubes. The temperature in the nursery is kept at 28°C.
Located upfront is the Milkiwean Feeder, an upgrade of the Transition Feeder of the British manufacturer G.E. Baker (UK) and distributed by Trouw Nutrition Belgium. The feeder allows warm liquid feed to be ontinuously present for the young piglets. A probe controls the volume of mixed feed in the trough and a clock mechanism allows the adjustment of the feeding time, as the piglets grow older and heavier. There are two new feeders in use at the farm.
Adapted strategy
The Wambeke family gather about 40 piglets per group in the nursery. The couple, in the past using foster sows, now focus on nursing the extra piglets. "We decided to use one method after we checked how many very small piglets we found in combination with nests of 13 to 14 piglets", explains Bernard. "Weaning the heaviest piglets at eight days of age is not always a success. Often, once the piglets choose their nipple, they do not move onto other available nipples so the smallest ones aren't always helped. It happens that we still intervene and make a foster sow."
The feed is adjusted as the piglets get older. Since warm liquid feed can be produced with the new feeder, the feeding strategy is based on artificial milk – basically skimmed milk powder, a pre-starter based on milk proteins and a crumbly weaner feed, adjusted to the gut development of piglets with an average weaning weight of 5 kg. Gradually the proportion of milk powder is replaced by a greater percentage of crumbly feed, so the piglets are used to solid feed when they're moved to the next stage in one group (all-in-all-out) at 21 days of age.
The feeder produces an audible signal as soon as the distribution of the warm liquid feed starts – a sound well recognised by the piglets. The perforated floors, as well as the animals themselves, were clean. Bernard Wambeke said, "Feed is hardly spilled and there is no sign of diarrhoea, with which we previously had to cope when the animals got cold liquid feed."
Over the past few months, piglet mortality has been reduced by about 50%, resulting from a combination of factors, among which the new feeding strategy is one. The nursery is now a part of the day-to-day management of the farm. The result of these moves has appeared quickly with piglet production increasing from 25 to more than 27 pigs reared per sow per year.
Source: Pig Progress Volume 25 nr 5