Dutch to open three layer breeding sow house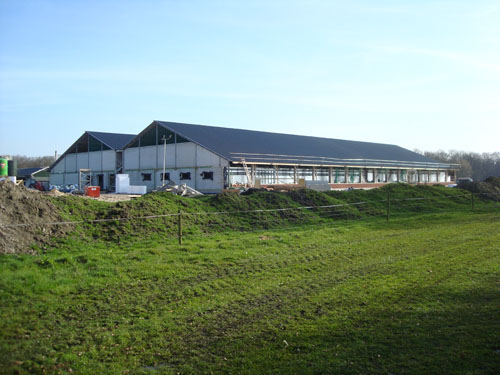 A first in the Netherlands – and unique on a global scale, is the opening of a three layer pig breeding facility near Lunteren, the Netherlands, this weekend.
The novel sow house is an addition to an existing family-owned pig finishing facility, owned by the De Jong family. The facility offers space for 1,986 sows, using high health status breeding material (Specific Pathogen Free).
The facility is constructed to offer space for the next generation pig farmers and also provides risk diversification. The main driver behind the construction is related to building an economically and socially responsible business.
Gestation departments
All gestation departments in the facility are equipped using Nedap Velos ESF wet feed stations, with 70 sows being in one group. Sows and gilts are going into group housing straight after insemination. During the first four weeks, sows are kept in a department with automatic heat detection equipment using spray markers.
The barn is equipped with positive pressure ventilation in the central corridors and with virus filters. Other specifications include heat recovery with a heat pump on the central exhaust; a curtain controlled by under pressure to prevent wind influences; five-phase feeding for sows and pre-heated slurry feeding for piglets.
The three layers in the breeding facility will be divided as follows:
Basement:
– 16 week groups, 88 sows at Electronic Sow Feeding (ESF) wet feed feeding stations with two feed circuits
– Four units automatic heat detection, liquid feed kitchen with 8 product bunkers.
– Technical area for incoming air
Ground floor:
– 16 Nursery units with floor cooling
– Farrowing pens with balance floors and manure pans
– Three insemination departments, 66 sows, auto bear routing
– Two quarantine departments with ESF training stations
Upper floor:
– 18 departments for weaning pigs
– Four combined air washers
On Saturday, 12 May between 10am and 4pm, the De Jong family (owners) open their doors to the facility. This offers interested people the possibility to have a look inside.
**Read more in the official invitation (PDF – in Dutch).