Dutch research: Learning how to eat like a pig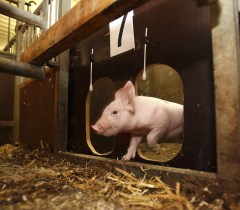 Recent research at Wageningen University and Research Centre, the Netherlands, indicates that training and learning can help piglets overcome the difficult timeframe around weaning.
Dr Marije Oostindjer, 26, received her PhD last week with a thesis called Learning How to Eat Like a Pig. Key to her research was to find out how piglets learn and how this knowledge can be used to facilitate the weaning process.
She discussed three different aspects:
• Direct learning from the sow through cues derived from observation and eating together
• Learning in an enriched environment
• Learning from flavour cues in the maternal diet
Learning from the sow
Oostindjer noted that the presence of the sow can influence piglet behaviour in various ways. She stated: "Piglets that were allowed to explore novel food items before weaning in the presence of the sow were less reluctant to explore an dingest these novel food items than in her absence."
"Being able to interact more and eat together with the sow also had positive effects on food intake before weaning an dresulted in less damaging behaviour and more play behaviour after weaning."
"Piglets learn effectively through both observation of the sow and participation with the sow while she eats, and they use information form both the location and the type of food eaten."
Enriched environment
In various tests, Oostindjer tested the behaviour of piglets in barren and enriched post-weaning housing conditions, e.g. more space allowance, straw, wood shavings, peat and branches.
She concluded, "Enrichment of the environment before weaning positively affected growth and food intake afer weaning. Providing enrichment after weaning increased growth and feed efficiency and decreased diarrhoea and stress-related behaviours."
Flavour exposure
The role of flavours also play a role as weaned piglets 'recognise' strong smells or flavours like e.g. carrot or anise, when this had been consumed prenatally or perinatally by their mothers. The resulting post-weaning effect is not so much related to piglets liking the acutal feed better – more it is related to a reduction of weaning stress levels.
The result, Oostindjer noted, is less stress-related behaviour, reduction of diarrhoea, and an increase of growth and feed intake.
Symposium
The PhD thesis was presented late last week with an international symposium around the theme. Presentations made e.g. parallels with similar developments in human behaviour and flavour preference.
Related website:
• Wageningen University and Research Centre (WUR)