Dutch parliament: Pig producers must be allowed to team up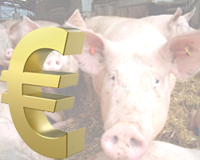 Pig producers in the Netherlands must be allowed to team up to stand up against the powers that be in the feed to food chain – in order to get better prices for their pigs.
There appears to be a political majority for this view in the Dutch parliament after desparate pig producers had been trying to block deliveries to slaughterhouses yesterday, due to sudden and dramatically low pig prices. These are mainly the result of the dioxin crisis in Germany.
Dairy cattle
In the dairy cattle industry in the EU, a similar initiative is going on to soften EU competition legislation. It was suggested that this could be applied very well in the pig industry as well.
The desperate feeling among pig producers raised other questions as well in parliament, like whether supermarkets should be allowed to sell fresh food against very low prices. In addition it was stated that pig producers now feel forced to grow to economies of scale in order to survive whereas some however don't have this ambition.
Many members of parliament were quoted to say that the power of retailers is too strong.
Tomorrow, the Dutch Second Chamber will talk to agricultural deputy minister Henk Bleker about the matter in the Netherlands in particular and in Europe in general.
Demonstrations
Wyno Zwanenburg, chairman of the Dutch Union of Pig Producers (NVV) told Dutch agricultural newspaper Agrarisch Dagblad to be satisfied about the demonstrations at pig slaughterhouses yesterday.
"A lot of pig producers turned up, it shows their commitment to participate."
Publicity
He was also happy to see that the demonstrations got quite some publicity, as apart from questions being asked in the Dutch national parliament it even made the national television. No further actions are planned for now. "It will depend on the discussions that are planned and what consequences these will have." He pointed out that due to the actions, the issue of pig prices is now clear and he expects a quick result.
He emphasised that the actions were not directed at the slaughterhouses themselves, but mainly to attract attention.
Related websites: