DSM pig conference in Poznan attracts about 120 delegates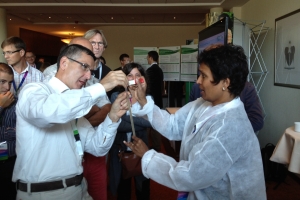 About 120 delegates recently attended DSM's European Pig Conference, held September 26 in Poznan, Poland. The event focused on future solutions for the swine business.
During the conference, a group of international speakers transferred experiences and knowledge on how to remain profitable in the business of producing pork, while conforming to modern challenges and demands, through the use of innovative products. Despite a focus on business aspects, there was also coverage of issues pertinent to sustainability, animal health and welfare.
Managing health status in pig herds
Magdalena Rajska, Poland, gave a general presentation on the importance of maintaining a high health status. She indicated that apart from direct losses due to lower growth and mortality, indirect income losses can be attributed to uneven finishing weight.
For example, she demonstrated that losses of up to €0.13/kg carcass may be lost due to high variability in finishing weight, something very common after a disease outbreak. To avoid the impact of diseases, even at subclinical levels, it is important to establish health and performance goals for each farm, identify the diseases most likely to be encountered, and establish rules for their prevention and treatment.
When it comes to disease therapy, the speaker indicated that individual intervention strategies (injections, tablets, etc), should be combined with group intervention programmes involving medications in feed and water. The latter is quite often considered as a fixed parameter, but problems in water supply are quite common and influence the outcome of therapy treatments.
Similar problems can be encountered in the case of in-feed medication applications, including destruction of medications by high pelleting temperatures, inadequate consumption of feed during acute disease outbreaks, and of course, insufficient feeding space for all pigs in a pen.
During the presentation, major pig diseases were discussed briefly along with suggestions for their prevention and treatment. In addition, special attention was drawn to DSM's VevoVitall (pure benzoic acid) as an alternative to antibiotics to control gastrointestinal diseases, especially in the post-weaning period.
Reducing the consumption of antibiotics
Margit Andreasen (picture), Denmark, discussed the Danish approach, experiences, and knowledge regarding the effort to further reduce the consumption of antibiotics in pig production systems. She indicated that after 2000, when no in-feed antibiotics were used for growth promoting purposes, antibiotic usage for therapeutic purposes increased steadily.
Although total consumption levels remained lower than pre-ban times, it was alarming to notice a steady increase in therapeutic usage that exceeded pre-ban levels. In 2010, a yellow-card scheme was introduced to curb the ever increasing use of antibiotics. This programme includes very close monitoring of medication usage at the farm level and preset upper limits.
As expected, close supervision by State veterinary agencies was required, and indeed, in the period 2010-12, the number of 'problematic' units has decreased steadily. Indeed, as of today, only about 10% of all farms in Denmark remain above the target upper limits. The plan is for yearly reviews of the upper limits, with the goal being to keep reducing them as national herd health improves.
Part of the success is due to increased vaccine usage (about 25% more), an efficient system of co-operative structure, good levels of management, adherence to modern technology, and use of more efficient antibiotics. The end result is of course a better image for the industry as it takes an active role in safeguarding public health.
Phosphorus requirements in pigs
Age Jongbloed, the Netherlands continued touching on the subject of phosphorus, its impact on the environment and of course the solution to the problem in the name of the enzyme phytase. The presentation started with an overview of phosphorus requirements and how these are affected by genotype and age.
In addition, the need for further in-depth insight into understanding and modeling phosphorus requirements was identified as the key to advancing the issue of sustainability. Next, the presentation focused on the effects of microbial phytase on releasing minerals, especially those beyond phosphorus.
It was interesting to note that a normal dosage of phytase releases not only 0.8 g/kg digestible phosphorus, but also 25-30 ppm Zn. The presentation closed with a discussion on factors that can enhance the efficacy of phytase; factors as related to phytase itself (such as heat stability), the animal (its physiological state is deemed quite important), and the diet in general (calcium levels, pH of the diet, etc).
In conclusion, it was related that microbial phytase should be considered a raw material containing digestible phosphorus, and that in the near future, higher efficacy should be expected due to continuing understanding of phytate and phytase interactions, not to mention more efficient commercial products.
Phytases to unlock phosphate
Following on the previous discussion, Fidelis Fru, DSM, gave a presentation around the phytase Ronozyme HiPhos. Behind the development of this new product is the realisation that as global human population increases, raw material (for the production of food) prices will continue to escalate. As such, the increased demand for phosphate fertilisers will drive upwards the price of feed phosphates.
In fact, the price of most rock phosphates has quadrupled since 2006, basically because mineral phosphates are a limited resource (in quality and quantity). On top of this major problem, excretion of undigested phosphorus remains an issue that can damage the public image of the animal industry as it affects long-term sustainability.
The development of the phytase product was aimed as a solution to these problems, because it releases not 0.8 g digestible phosphorus, but actually 1.5 g/kg feed – almost double what conventional phytases are able to do today! Of course, all the beneficial aspects of Ronozyme phytases are maintained: heat stability, dust control, and form flexibility (dry or liquid).
Interaction among immunology, osteology and myogenesis
Moving into less well known topics, Jessica Starkey, United States, discussed the interactions among immunology, osteology, and myogenesis. In brief, it was related that a healthy animal with a strong immune system enjoys better bone and muscle structure; all very desirable commercial traits. In the case of HyD, the company's advanced vitamin D metabolite, it was revealed that feeding piglets with HyD resulted in increased number, viability, and phagocytic activity of immune cells.
It was concluded that piglets fed Rovimix HyD may experience improved performance due to increased circulating 25-OH-D3 (the HyD metabolite) concentrations and improved efficiency of immune response. This is great news because young pigs are characterised by an invariably compromised immune system around the time of weaning, which leads to depressed performance, disease outbreaks, mortality, and overall loss of profitability.
Development of pork production in Eastern Europe
The last presentation by Richard Brown, UK, focused on the business aspects of development of the pig production sector in the countries of Eastern Europe – a theme selected to match with the host country of this year's conference.
The key success factors for the growth in this area of Europe were presented, along with equally important challenges faced – many due to EU welfare regulations, but also due to global financial instability. In addition to the great volume of data presented and the in-depth analysis, the discussion also touched issues regarding relationships with Russia and the effect of exports from Brazil, and how these will affect the near future of pig production in Eastern Europe.
Related website:
• DSM