Difficulties for Botswana's pig farmers to make ends meet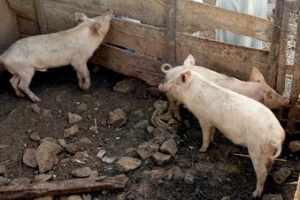 Pig farmers in Botswana are caught up in a value chain dilemma of declining local production against increasing demand for pork products. At the centre of all this is a market syndrome where farmers feel they are getting a short end of the rod in the pork industry trade.
Most of the estimated 1,200 pig farmers claim to receive a raw deal in the whole market set up where they have little or no say in determining the prices of their products.
Other pig farmers throughout that country feel the structure of the pork industry at the moment favours the retailing and meat processing sectors instead of primary producers. This is in agreement with a recent value chain analysis which the Local Enterprise Authority (LEA) undertook.
Highly lopsided
According to LEA research officer Isaac Mbaiwa the pork market in Botswana is highly lopsided with commercial pig farmers getting around US$3.4 million share of the market monthly while retailers and meat processors raking about $14 million from the pork business.
Mbaiwa told Pig Progress, "I am afraid pig farmers in the country will continue to play second fiddle to retailers and processors." He also said because of the insufficient slaughtering and processing facilities some retailers have decided to to do their own in-house processing further which destabilises the market.
Considering that most retailers have forced a unit price of about $2.3 for a fair sized five months old porker the high cost of feed, transport and communication leaves the farmer with almost nothing.
With an estimated national herd of about 13,000 pigs and with only 40% being reared for commercial purposes farmers are in for a long haul of problems before the situation comes to normal and smiles can come back on their faces in the pork industry.
Growing tourism
Growing tourism industry has contributed to the boom in pork consumption in Botswana, where pork is traditionally not preferred. Statistics from the Central Statistics Office show that the pork market in Botswana is highly concentrated in the tourism sector with a 60% market share and local restaurants accounting for another 20%.
Therefore to meet the shortfall in local supply, Botswana has to import about 952 metric tons of pork every year from neighbouring South Africa to supplement local supply of about 470 metric tons.
LEA would like to work with the ministry of agriculture to help revive the pig industry through the provision of training for livestock farmers, efficient veterinary services, manufacture of cheaper and improved feeds which are considered to be the prime movers of the pig industry. (by Alfred Sayila)