Denmark: Pig industry wants better business environment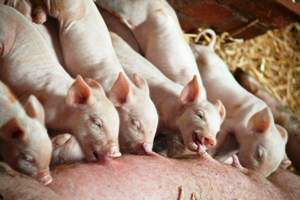 Denmark's pig industry has sounded a loud battle cry for Danish politicians and pig businesses, urging them to capitalise on the growing global demand for food.
Speaking in Herning on Tuesday (Oct 22), chairman Lindhart B Nielsen warned: "If politicians do not create a better business environment in Denmark very soon, we will risk ending up as a nursery and millions of pigs and jobs will simply flow out of the country."
Nielsen was delivering the opening address at the two-day annual meeting of the Danish Pig research Centre, which this year has attracted more than 2,000 producers and workers from pig farms across the country.
"Denmark is among the countries that produce food with the lowest environmental impact and the highest food safety standards. Do we want growth, or do we want to stand still and let other countries take over our jobs and the value which might be created for the whole of Danish society," he asked.
The country needed to harness its potential, scrap old production systems that had an adverse impact on the environment and develop faster and more flexible processing of environmental and building applications.
"If we can finish an additional two million pigs in Denmark, this will bring in annual export revenue of about DKK 3 billion and result in the creation of at least 2,800 jobs. In addition we can also factor in the additional employment during the construction of a couple of thousand new housing systems – we must strive to find a better growth indicative than we currently have," added Nielsen.
Later the PRC director Nicolaj Norgaard told visiting journalists that extra taxes, higher welfare costs and rising energy tariffs had had a negative effect on the pig industry in Denmark so far this year.
But he was optimistic things could change soon with a new minister of agriculture, who had pledged to focus on boosting employed in the pig sector and improve conditions so the industry could prosper.
Norgaard said he was also hoping that slaughter house workers would agree next year to accept what he admitted was a radical way of thinking and put some of the earnings back into the business to help it modernise facilities.
Dan sake Svineslagrerier chairman Asger Krogsgaard, who is himself a pig producer, said he was thrilled to see that the whole industry – producers, processors, politicians, slaughterhouse workers and allied industries were sitting down together this year in an attempt to help the industry grow.
"I am more positive about the future now than I have been for some time," he said. "Since last year we have seen this working together going on and for me it has been very pleasing.
"I am hearing new tunes from the minister of agriculture and other politicians who want to help our industry and I can see future growth, even though the pig prices might be stable at the moment, with more product processed in Denmark and new growth in our international market."