De Heus Vietnam zooms in on basic piglet management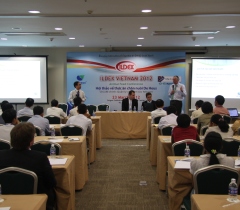 A very recent seminar in Vietnam, organised by animal feed company De Heus, zoomed in on keeping sows in good condition, as well as proper piglet management.
The seminar was held concurrently with the tradeshow Ildex Vietnam, which was held in Ho Chi Minh City, March 22-24.
Good quality feed
Introducing the theme to the approximately 200 attending pig farmers, René Noteborn, project manager, De Heus, said: "The objective, but also the responsibility of an animal feed producer is simply to provide good quality feed."
He continued, "These are the basics of feed manufacturing. It's like with cooking in a restaurant. You expect a good smell, appearance and taste of the food. An animal feed manufacturer needs to exactly do the same: make sure that good quality ingredients are used and put these together into good diets. These should specifically meet the animals needs, and piglets in particular because they are vulnerable young animals. That's why we have a very strict quality control programme for raw materials. Factors such as freshness and protein levels must be of an excellent quality in order to guarantee supplying safe and good feed at the farm gate."
High feed quality
High feed quality however, only makes sense if the management of the pig herd is done in a proper way, explained pig specialist Fred de Cocq, De Heus.
"Particularly weaning is the most critical moment in a piglet's life," he said.
"This creates a lot of stress, firstly because of social and behavioural factors. In addition, the change from milk to dry feed and water affects digestion enormously. Thirdly, pathogens see opportunities to attack an animal's digestive tract. Achieving maternal immunity therefore is very important. That's why mother sows must be kept in an excellent condition, allowing piglets to drink as much as possible from an early stage. On top of that, creep feeding should teach piglets to start eating dry feed."
As from the moment of weaning, it is essential to provide piglets with well-balanced rations, De Cocq said. This would be an important measure in guiding them to eat independently on their way to finishing.
Related websites:
• Ildex
• De Heus