Danish Jyden Bur targets Russian pig market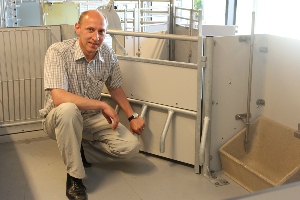 Jyden Bur, Danish specialist in housing equipment, aims to establish a Russian sales organisation. The company already operates in Romania and Ukraine, and has had its eye on the Russian market for some time.
Jens Agergaard, managing director at Jyden Bur, said: "It is our ambition to become a well-established supplier for Russian farmers and other integrators operating in Russia. Offering innovative solutions at competitive prices."
John Kongsgaard, export manager, added: "Our goal is to establish a sales organisation in Russia. Either our own sales organisation or one built in cooperation with other partners. We will look into different options."
The start-up in Russia is supported by a Danish export programme. Kongsgaard added, "It is very important for us, that the customers in Russia know, that we intent a serious commitment in Russia."
Offer total solutions
The company recently expanded its activities by acquiring the Danish company MHJ Agroteknik, and is now able to offer complete housing solutions when it comes to pens, pen floors, fittings, water and feeding systems, ventilation, aircleaning, feed storage and feed production.
The company also offers an energy efficient fan. This EC-fan from MHJ Agroteknik only uses 25-50% of the energy used in a traditional fan (see Pig Progress).
The two companies will continue as two separate units in Denmark, but will have an extended collaboration abroad.
Agergaard said: "In many countries the farmers or integrators prefer to have only one supplier of housing equipment and technology in their building projects, and we want to accommodate that."
Related website: